Saturday in Tokyo
Posted on 2013/03/02 19:42:28 (March 2013).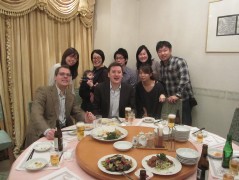 [Saturday 2nd March 2013]
We landed in Tokyo around 10am. It took us a bit longer than usual to get off the plane as we had to wait a bit for the buggy, which they handed back to us at the gate. This meant everybody else had headed to immigration before us, and so we arrived to quite a large queue. Fortunately though as we were travelling as a family, and we are 50% Japanese overall, they let us go through a different lane - and in fact we ended up directed into the lane for diplomatic officials, which I found quite exciting (although in practice it wasn't any different to the other lanes). It seemed appropriate for a VIP like Erika's first time to arrive in Japan.

We hung around in the airport a little while to repack our luggage a bit - so we could send a suitcase directly to Hiroshima. This made our ridiculous fleet of wheely bags, cases and of course the buggy slightly more manageable - at least now we had four wheely things and four hands. I also changed a bit of money - the exchange rates for GBP-JPY on offer in Narita were slightly better than they'd been in Heathrow, and I generally felt less loathed to give them my money. Better still they had a machine here, which rather impressively I could feed pounds into, and get yen out of. Although that did make for the slightly demoralising experience of thinking about how much I'd be able to buy in the UK with each note I fed in, and how little I could do with each note I got in return. Oh well, it's only money.

We took the train to the centre of Tokyo, to a station called Daimon (which Chie thought would make for an easier change), and from there got on the metro. It turned out Daimon station doesn't have any lifts, so we had a fun time managing our four wheely things on the escalators - we ended up doing two trips, as wrangling a buggy on an escalator is still a bit nerve wracking, more so when very tired and jetlagged, and really needed two hands.

We eventually made it to our hotel, the Ritz Carlton in Roppongi, just after 1pm. Having been in the airport, on trains, and in subways until now, the short walk from Roppongi station to the hotel was Erika's first time to be outdoors in Japan. I felt it was my responsibility at this point to explain she was in a different country now and tell her how lots of things were going to be different here - what a fascinating time she was going to have learning about a different culture, and so on. Only to then turn a corner into the plaza where they had an event promoting tourism to Great Britain, with Union jacks, red telephone boxes, Beefeaters and all sorts of other British clichés abounding. Erika did not look convinced.

Rather pleasingly a former colleague of Chie's from her days at the Grand Hyatt was on the reception desk at the Ritz-Carlton (the hotel industry is an incestuous one), and also Yuka was there to meet us - the first time for Erika to meet her aunt. So this made for a great welcome, which was much appreciated as I have to admit by this point I was getting somewhat tired and a bit fed up of travelling.

I'm not sure Yuka was entirely comfortable with being called "obachan" - the Japanese word for aunt - because it is the same word as middle aged lady, and she's still in her twenties.

After dropping off our luggage in our room the girls went out for a chat, and some lunch, but I decided to have a shower and an afternoon nap instead, and managed to get a couple of hours sleep in before our evening schedule commenced.

Andy came to meet us at the hotel a bit after 5. This is actually the first time we've ever managed to meet up in Japan - he now lives here so I was really determined to make it happen this time, having had several near misses in the past, where he's left the day before we arrived and vice verse. After introducing him to Erika briefly, we headed out for a quick pre-dinner drink and a chinwag to catch up. What a delight it is to be in Japan with an English friend - something which seldom happened when I was living here.

We went to a "craft beer bar" called "Ant n Bee" - which I'd been to on a previous trip - mainly just because I knew the place and it was close by, rather than I actually liked it. It's expensive even by Japanese standards, and as hard as I tried not to think about the petty cash I'd changed at Narita earlier today, I couldn't help but do the mental arithmetic and figure out those pints (and American size pints at that) costing 1200 yen were effectively ten quid each. We didn't even really like the beer very much. So we only had the one. And Andy paid.

From there we headed on to meet up with the others at the Chinese vegetarian place Chie had found in Roppongi. As the only vegetarian there I felt rather spoiled - but I suppose in arranging this Chie was trying to nip my usual whinging about how I can't find anything to eat in the bud. We were quite a large group and so had our own private room, which was great (and probably a good thing as Erika, poor thing, was a bit grizzly at the start). In addition to me, Andy, Chie, Erika and Yuka, we were also joined by some of Chie's university friends - Hide, Asuka, Haruka and Yumi. The girls were all head over heels with Erika from the moment they saw her, of course, despite her not being in the best of moods for the first half an hour or so. She did eventually settle down, had a feed and a bit of a sleep, and then later on was her usual sociable self again.

There was also a moment of excitement during the evening when Yumi spotted Japanese musician Cornelius was also eating in the same restaurant. I wonder if he might be a vegetarian, in the vein of Thom Yorke et al? He too was with a fair sized group, and I found it slightly amusing that we had the private dining room, whilst the celebrity was sitting out in the regular bit. Mind you, they didn't have a jetlagged baby with them.

Chie has some lovely friends, and Yumi in particular is one of the gentlest and most caring people I've ever met. I immediately feel relaxed and at home in Japan as soon as we meet her and the others. It was a really good night, everybody seemed to be in good spirits, the food was really good (I'll very likely be coming back here during this trip, I think, as it's so close to my office) and it was great to start off the trip on a high like this.



Post a comment