Hawaiian Burgers and Vegetarian Pork
Posted on 2013/02/27 21:11:04 (February 2013).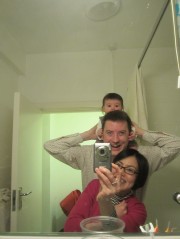 [Sunday 24th February 2013]
Headed out again today to resume the "omiyage" shopping which we hadn't really got very far with yesterday. Got the tube to Green Park, and then started out with Fortnum and Mason, and Mitsukoshi - the Japanese department store. They particularly specialise in aggregating together the typical omiyage Japanese people would buy from various different other stores (Harrod's, Fortnum and Mason, Parttridge's, etc), so you can buy tea, jam, biscuits etc from any of these places conveniently under one roof. It's also very good for getting a sense of which particular products Japanese people tend to like, as they obviously only carry a small subset of the myriad of things you could buy at those other places. It is very efficient. Better still, Chie has a card which gives her a discount here - so it's bizarrely cheaper to buy Fortnum and Mason tea here, rather than round the corner at Fortnum and Mason.

We went for lunch at a Hawaiian burger place called Kua' Aina - it's actually an international chain, and Chie had been to one of their places actually in Hawaii. It was probably good on a psychological level, as it was really cold outside today, and so a short while spent in a mock beach hut helped us to briefly forget about the freezing temperatures.

In the evening, I cooked the mock dong po "pork" we'd bought in Chinatown earlier in the week. I think this will likely be a one off, as even for me - usually quite open minded when it comes to fake meat products - this was a little weird and artificial. The simulated layer of "fat" was made in part from konyaku - a kind of jelly made from yam which is common in Japanese cuisine, and I'm not really a fan of. So surprisingly Chie actually liked this product more than I did, having successfully by stealth got me to eat konyaku.



Post a comment