Gav and Kyle
Posted on 2013/02/27 21:11:04 (February 2013).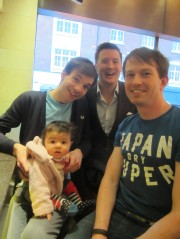 [Saturday 23rd February 2013]
Got up quite late this morning, and felt quite hungry (as a result of a bit of a hangover) but had very little in that was remotely breakfasty. So I ended up bunging some Quorn "fish" fingers and "chicken" nuggets in the oven, which we ate with some Lebanese bread I also found lurking in the freezer. I felt compelled to call this brunch because it was so un-breakfasty.

Went into the centre in the afternoon to do "omiyage" (souvenirs / visiting presents) shopping for our upcoming trip to Japan. We started off at Liberty, where we didn't buy any omiyage, but instead got distracted by the childrens department, and I finally managed to persuade Chie to let me buy Erika some of the stupidly expensive baby clothes they have there. It's a Liberty print dress, and I think it's rather lovely - see the pictures.

Whilst we were in Liberty, I received a surprise text message from Gav, who was in London for a few days, and wanted to see if we were free to meet up. So that rather put pay to any further shopping getting done (I can't say I was really in the mood for it anyway). We headed to Princi, where Chie and I had a late / second lunch, and Gav and Kyle joined us there a short while later. We followed that with a drink at Notes (after wandering around for quite a while not being able to find anywhere suitable, thanks to the bloody Six Nations) before heading back home. What a nice surprise that was!



Comment 1
erika looks splendid in her liberty smock. definitely worth the paltry amount it cost :)

Posted by Gavin at 2013/02/28 01:03:54.
Comment 2
Erika ojyousama mitaine!
Suteki!


Posted by yoko at 2013/02/28 10:16:19.