British Museum, Timothy Spall and Al
Posted on 2013/02/27 21:11:04 (February 2013).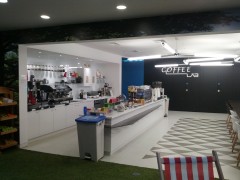 [Friday 22nd February 2013]
The picture is again mostly irrelevant to the days events. I got into work early this morning, which prompted me to take a picture of the coffee making facilities. They're normally fairly crowded, but my office in general is very quiet before 9am.

Chie wanted to get her hair cut this evening, so I headed over to meet her after work, so that I could look after Erika for a bit. Conveniently her hairdresser is close to the British Museum, which opens late on Fridays, so Erika and I went for a look round some antiquities. I attracted a few strange looks - lots of people still don't seem to be used to the idea of a man looking after a baby by himself. Although a nice Chinese lady did come and ask how old Erika was - after telling her I added that she's training to be an archeologist and there's so much to learn that it's important to start young. This met with a very blank expression - I don't think she really spoke much English.

I'd sent Al a text earlier mentioning that I'd be at the British Museum - his office is quite close by - just on the off chance he was at a loose end. Just as I was getting ready to leave the museum he replied, and so we decided to go for a quick pint, as Chie still wasn't quite finished yet. I initially considered the Museum tavern, but it was pretty busy and they were a tad ambiguous over whether they were happy to have babies in the pub, so we instead went round the corner to the Plough - emboldened by the fact that there was already another baby in there, and it looked slightly quieter.

I noticed that a couple of chaps there had finished their drinks and looked like they were about to leave, so we hovered near their table in the hope of taking it after they left. To my surprise, when the chap who'd had his back to us got up, it turned out to be Timothy Spall. What a nice man - he paused to have a little chat with Erika on his way out the door, and patted her on the head.

Erika seemed unfazed by her brush with fame.

Chie came to meet us in the Plough a short while later, and kindly offered to take Erika home so Al and I could stay out for the remainder of the evening - it turned out Al didn't have any plans. So we headed from there to the Whisky Society - where I don't think I've set foot in well over six months - and worked our way through some of their whiskies.



Comment 1
Timothy Spall - what a great and versatile actor. Nice to know he is also a friendly chap! So many actors can be very distant.

Posted by Bryan at 2013/02/28 12:08:30.
Post a comment