Rory's Christening and Lunch at Sketch
Posted on 2013/02/10 21:48:01 (February 2013).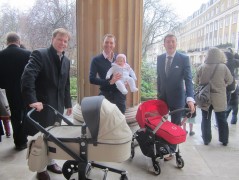 [Sunday 10th February 2013]
We'd been invited along to the christening of one of the babies from our NCT antenatal course group today. Rather impressively it was at St. Peter's in Eaton Square, Belgravia - the Duke of Westminster's local church (although, alas we didn't spot him there today). Thinking about it, I'm reasonably sure this was actually the first christening I've ever been to. It was also, thinking about it, the first formal occasion I'd been to since I got my suit (we didn't go to any weddings last year!) so I was pleased to have an excuse to wear it.

The service was littered with rugby references - and in fact the vicar even threw a rugby ball about it during it - which I hadn't really expected. I can't pretend to have read the bible exhaustively but I'm fairly sure rugby doesn't crop up much, so I'm going to assume he was ad libbing.

There were refreshments in the portico of the church afterwards (obviously the bit I was looking forward to) although even I felt 11am on a Sunday was a bit early for prosecco. It had a bit of a feel of a high society event about it, and I half expected to see a photographer from Tatler pop up - fortunately Erika already had a double barreled surname for the accompanying caption.

After that we headed back to the flat to get changed and have a warming cup of tea (it was a bit chilly out) before heading out again to meet up with Masumi-san for lunch. They'd decided to go to Sketch, as much for architectural interest as anything else, and although again we had a bit of a wait for a table, it wasn't as bad as the previous day, and we did end up with a particularly nice table with a sort of chaise longue on one side, and three armchairs. The chaise longue looked a rather fitting piece of furniture for our little princess.

In the evening I made sausage and mash for dinner - it was Masumi-san's last night with us, and I thought she should probably have some English food during her stay.



Comment 1
Tanosii itiniti desitane !

Posted by yoko at 2013/02/11 01:23:06.
Post a comment