Erika's Trousers
Posted on 2013/02/10 21:26:58 (February 2013).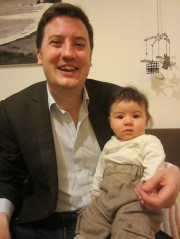 [Thursday 31st January 2013]
Chie bought an excellent pair of herringbone trousers for Erika today from the very posh looking children's clothes shop in Pimlico. The slight downside is that they're meant for a one year old, so it's going to be a while before she can really wear them, but they were just too good to resist.

I launched a small feature I'd been tinkering away on at work today. Whilst it isn't particularly high impact, I'm quite proud of it because it's something I did entirely single handedly from end to end - I normally work on the "backend" side of things, don't typically make user interface changes directly, and there are usually several non-engineers involved in launching a feature - designers, product managers and so on. I took on all of those roles for this tiny feature and it was rather gratifying.

Met up with Chie after I finished work to go and look at a flat. I'd been talking to a friend at work in the daytime about how ridiculous it was having savings at the moment - it's impossible to earn interest above the rate of inflation, and so the money is just devaluing in the bank. This prompted me with some renewed vigour to buy somewhere, even if it wasn't all that great, just to stop our assets devaluing.

The flat didn't exactly have "wow factor" as those tedious property TV programs are so keen on saying, but it wasn't bad either so we decided we'd probably put an offer in on it.



Comment 1
Sinsi no youna Erika chan ne!

Posted by yoko at 2013/02/11 01:03:27.