Christmas Day
Posted on 2012/12/27 14:12:20 (December 2012).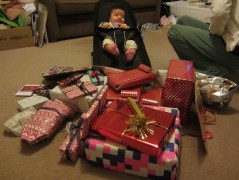 [Tuesday 25th December 2012]
After a light breakfast of viennoiserie we set about opening presents on the lounge floor, with Erika observing the proceedings from her bouncer. Obviously it's still a couple of years before she really has any idea what's going on, but I think she enjoyed the activity.

Lunch too was a very simple affair - Chie had given me a toasted sandwich maker (I'd been going on about toasted sandwiches for ages) so I just made one of these, and we decided to have our main meal a bit later in the day.

We went out for a Christmas day stroll in the afternoon, along the Thames to the Houses of Parliament, up Whitehall to Trafalgar Square, then milled around that area a bit before eventually deciding to get a taxi back from Piccadilly Circus as it felt like it was starting to rain.

We ate Christmas dinner around 5ish in the end. I tried to keep it fairly simple - pretty much just like a Sunday roast, but with the addition of a jar of cranberry sauce from Fortnum and Mason. It all came out fairly well today - even the roast potatoes were about a 7/10. I didn't make a ridiculous amount, so we didn't end up stuffed.

No booze either! We both had colds and had taken medicine, so decided not to open the bottle of Champagne we'd bought the other day in Berry Brothers and Rudd, which ws a bit of a shame.



Comment 1
Give you a clue about who bought what - Crinkly Caterpillar was bought in Derby...

Posted by John's Mum at 2012/12/27 15:40:11.
Comment 2
Thanks! The label had fallen off and we weren't sure...

Posted by John at 2012/12/27 22:38:09.