Baby Group Christmas Party
Posted on 2012/12/20 16:44:10 (December 2012).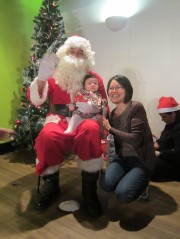 [Thursday 20th December 2012]
Started off the day with breakfast at the Regency Cafe, which was surprisingly busy for a weekday - and it was fun to see it in a festive mood. Next we went to the Christmas party organised by one of the baby groups Erika and Chie go to. I have to admit to finding this all a bit intimidating at first - they had an entertainer dressed as an elf with a guitar, who slightly later on was also making balloon animals - and there seemed to be about a hundred babies and frantic small children there. Still, Erika seemed to enjoy at least some of it, and I'm sure this kind of stimulation must be good for her. She also got to meet Santa for the first time, which was definitely fun (more for us than for her, at this age of course).

After leaving the Christmas party, a bit before midday, we decided to head into the centre, as we needed to pick up Erika's new Japanese passport from the Japanese embassy. We walked there, and although it was a bit of a damp and drizzly day it made for a pleasant stroll, through St. James's Park and some of Green Park. They were very friendly and efficient at the Japanese embassy, and we were pleasantly surprised to find they also had baby changing facilities there. Again there's something oddly exciting about getting a brand new passport for a brand new person, and we immediately started thinking about going somewhere abroad on a bit of a whim this coming weekend.

Next we popped over to Bond Street - we'd rather liked the idea of buying a silver spoon for Erika. We decided to get one in Tiffany, as Chie had a ring from Tiffany she'd been given by her sister when she first came to England, and we found they actually had spoons by the same designer, with a similar style - so there was a nice sense of continuity to it. We plan on getting it engraved too, but they told us there would probably be a long wait at the moment, so it might be better to drop it back in the new year.

From there we went to pick up some Japanese provisions in Rice Wine Shop, and then from there went to try out a new ramen place called Shoryu for lunch. They had a vegetarian ramen dish on the menu - it was a bit on the healthy side for my liking, but I was still pleased there was at least something on offer. The staff spoke Japanese to us as well, which is always nice.

We gradually headed home from there, by way of Berry Brothers and Rudd, to pick up a bottle of their Champagne for Christmas.

Once back at the flat, we had a delivery of a baby bouncer for Erika, and in the evening I made kimchi nabe for dinner.




Post a comment