Saturday
Posted on 2012/12/16 11:25:26 (December 2012).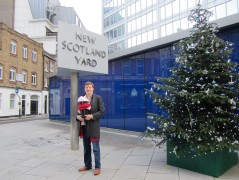 [Saturday 15th December 2012]
I continued to feel pretty glum this morning after last night's unpleasantness, and coupled with the fact that I effectively had an 18 day long weekend ahead of me, I didn't really feel particularly enthusiastic to go out and do anything. I could have quite happily just stayed in bed.

Still, we thought Erika could probably do with some fresh air, and I thought looking around for a new tweed jacket might cheer me up a bit, so we eventually decided to head out in the afternoon in the direction of Piccadilly, on foot - taking in St. James's Park on the way.

I had a very thorough look at the tweed jackets in Cordings on Piccadilly, but couldn't quite make up my mind. I think part of the problem is that I really want to get a full tweed suit, but they only had the matching trousers available in a couple of their tweeds, and I didn't particularly like those designs.

We retreated to the Whole Foods in Soho for a bit - Chie likes the fresh juices there - which also gave us the opportunity to feed Erika. Afterwards we took a stroll down Jermyn Street looking for more tweed jackets there, and did eventually return to Cordings, but I still couldn't make up my mind.

So our rather fruitless shopping expedition ended with a quick visit to the Japan Centre to pick up supplies for dinner, and then we got the bus back home.

Japanese food for dinner in the evening then - I'd managed to find some vegetarian compatible kimchi in the Japan Centre, and so we started with a course of assorted nibbles, followed by vegetable korokke, rice and miso soup.



Comment 1
Erika chan sikkari youtube mite taosinderuyoune!


Posted by yoko at 2012/12/16 12:32:29.
Post a comment