Hyde Park
Posted on 2012/12/02 22:25:08 (December 2012).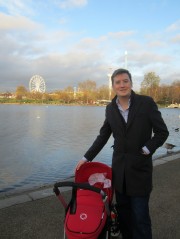 [Sunday 25th November 2012]
Started off the day with a Japanese breakfast, followed by mince pies.

In the afternoon I thought we should go for a walk in a park somewhere, so decided to head to Hyde Park - and in fact we walked all the way there and back again, stopping off en route at the Waitrose in Belgravia.

Made a Sunday roast for dinner, I'm still continually striving to make better roast potatoes. They were reasonably OK today, I boiled them for a bit longer than I did last time, and dried them out in the pan a bit before transferring them to the oven. Still not as crispy as I'd like them though - I blame the oven.

We tried out the swimava for the first time for Erika's bath this evening - which meant we put her in the grown-up bath rather than her little baby bath. She seemed to quite enjoy it actually - I think that floating sensation must be quite nice for her.



Comment 1
Have you tried giving the (closed) pan of boiled spuds (without boiling water!) a good shake to feather their outsides before transferring them to already very hot oil in the baking pan in the oven and spooning the hot oil over them before roasting, John? That is how I get crispy roast potatoes.

Posted by Bryan at 2012/12/03 12:03:44.
Comment 2
swimava tukatte mitanone.
kimoti yosasou ni siteirune.

Posted by yoko at 2012/12/04 01:56:11.