Eurovision Party
Posted on 2012/05/27 21:55:20 (May 2012).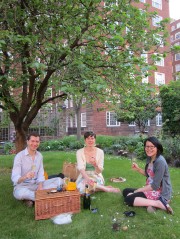 [Saturday 26th May 2012]
I decided to hold a Eurovision Song Contest Party this year - the first time I've done this, and invited some of the usual suspects. I was rather pleased by how enthusiastically everybody had responded to the invitation. It seems it's not just me who not-very-secretly rather likes Eurovision.

As Azerbaijan was the host country this year I'd considered trying to make Azerbaijani food for the party, but following our visit to the Azerbaijani restaurant on Monday I was left a bit confused as to what that would actually entail. So instead we went for kind of generic Middle Eastern food. This worked out rather well.

Between extended bursts of tidying the flat we made a couple of forays out in the daytime for buying the necessary ingredients. First, to the rather good Middle Eastern convenience store near where we live (where we bought a huge basket full of interesting Middle Eastern foodstuffs). It's at the base of a block of council flats, so I decided I should probably dress down a bit for this outing, and went in a pair of trainers and a T-shirt. Whilst there we also had a bag of chips from the very downmarket (and therefore very good) chip shop, which we ate standing in the shade of a tree, on a sunny street corner, whilst across the road a group of hoodies playfully beat each other up. It was rather idyllic.

We also popped into the Italian deli near there to buy olive oil, and have a quick coffee and some ice cream.

The second shopping excursion was a somewhat more upmarket affair (so naturally off with the trainers and T-shirt, and on with the shirt, antique cufflinks and brogues). We bought a few more things in the Waitrose in Belgravia, but couldn't find all the drinks I wanted there, so also headed to the Noura Deli in Knightsbridge. There I got talking to the Lebanese chap behind the counter, and tried a couple of the wines before buying, as well as providing extensive assistance in choosing a bottle of Arak. I think he was rather pleased to see an English person express that level of interest in Lebanese wines ans spirits - but I can't be alone in that, wines like Chateau Musar are really just outstanding. (As an aside this was the one Lebanese wine the chap there didn't particularly like!).

I also managed to fit some work in between all the tidying and shopping, so overall the daytime today felt satistfyingly full and productive.

The evening's festivities kicked off around 7, when, as it was a rather lovely day, we headed down to the gardens for some pre Eurovision Champagne and (vegetarian) caviar. I had seen caviar on the menu at the Azerbainjani restaurant we went on Monday, so assumed this to be appropriate. This was quite possibly the nicest part of the whole evening, sitting on the grass, out Champagne flutes parked on an F&M hamper used as an impromptu table - it finally felt like summer had well and truly arrived.

As tempting as it was to just sod Eurovision and stay outdoors, that was what everyone was here for, so duitfully at 8pm we all headed indoors, and huddled around our embarrassingly small TV screen to watch the song contest. Inevitably I was busy in the kitchen for a lot of the first hour or so (and Chie was even more so) - and of course the smoke alarm went off at least once, but was barely distinguishable from the din of Europop which otherwise formed the soundtrack to the evening.

I think the food and drinks were a big success, and by the end of the evening pretty much everything had been eaten up - particularly the rice dish I'd decided to call plov. There are, after all, 50 varieties of plov in Azerbaijan, and nobody there had a sufficient knowledge of Azerbaijani food to say with any certainty that it wasn't one of them. Although nobody really touched the salad. Oh, and one of our guests had brought some Middle Eastern bread (khobez?) so we were left with a huge pile of that too.

So a fun and very successful evening.



Post a comment