Scotney Castle
Posted on 2012/05/08 20:20:00 (May 2012).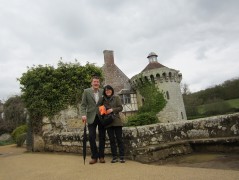 [Saturday 5th May 2012]
I decided we ought to make a concerted effort to get out and do something at the start of the long Bank Holiday weekend, so I proposed going to visit Scotney Castle, which I'd seen a poster of a while back and had rather caught my eye.

A quick research on the web in the morning suggested the transport arrangements might not be entirely straightforward, but by that point my mind was made up and I convinced myself we'd just figure it out.

We initially got off the train at Tunbridge Wells, having read on the web that there was a bus service from there to Lamberhurst, the nearest village to Scotney. This turned out not to be the case, so after a quick whizz round the town (rather disappointingly discovering the Chalybeate spring was closed) we got back on the train to Wadhurst, which is apparently the closest station to Scotney Castle.

The page on their website rather unhelpfully says "By train: Wadhurst 5½ miles", without any further information on how that distance might best be traversed. On arrival at Wadhurst there was again no indication of any buses or anything, and it wasn't the sort of station that had a taxi rank either. So we found a number for a local taxi firm, called them and they told us they'd have a car there "within 10 minutes". After 25 minutes waiting out in the cold the taxi finally arrived. I was definitely starting to regret having chosen to come to Scotney by this point.

Still, the actual house and castle wasn't bad I suppose - not sure it really merited all the cost and inconvenience of getting there (not to mention the extortionate £16 entrance fee - each!), and obviously it would have all been far nicer in summer, but I got a few nice pictures, and if nothing else we weren't left with the sense that we'd wasted the long weekend slobbing about the flat.

After leaving the castle we popped into a nearby pub which my friend Al (who is from the area) had recommended - the Brown Trout. Had an early dinner there, before calling the same cab firm again (there weren't any other alternatives) to take us back to Wadhurst station. They were much more prompt second time, and the driver turned out to be a bit of a character, so I almost forgave them for the long wait we'd had earlier on.

As an aside, this is the 3000th entry of my blog!



Comment 1
samusou dakedo iroirona hana ga saite sutekina tokoro desune!


Posted by yoko at 2012/05/14 13:39:08.
Post a comment