Chie's Birthday
Posted on 2012/05/08 20:20:00 (May 2012).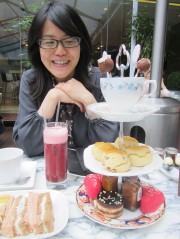 [Friday 4th May 2012]
Took the afternoon off work today so that we could do something together for Chie's birthday. We'd wanted to go for afternoon tea somewhere, but naively thinking as it was a weekday that places wouldn't be so busy, we'd left it until the last minute to try and book anywhere. Surprisingly just about all the famous hotels were fully booked.

So we ended up going to the Sanderson Hotel, as a picture of their Alice in Wonderland themed "Mad Hatter's Afternoon Tea" had caught my eye in a newspaper recently. The actual food wasn't bad, and was certainly very photogenic, but the service was decidedly naff, which made the whole thing rather a disappointment. Ho, hum.

After this we rather oddly both decided to go and get our hair cut. Chie went to a Japanese place, and I went to try Geo F. Trumper. I later read that this is apparently where Prince William has his hair cut (what's left of it, poor chap) - although he goes to the original Mayfair branch, rather than the one just off Jermyn Street I went to. I'm glad I tried it but not sure I'd go back - they really didn't take much time over the cut, and the barber, although a pleasant enough chap to talk to, had clearly had something very garlicky for lunch. I left with the unpleasant sensation that my hair smelled of garlic, and consequently went straight back home for a shower.

We stayed in the remainder of the evening, and I cooked a lasagne for dinner.



Comment 1
otanjyoubi no sutekina kawaii afternoon tea desune!!

Posted by yoko at 2012/05/14 13:34:44.
Post a comment