Savoy and The City
Posted on 2012/03/25 11:32:04 (March 2012).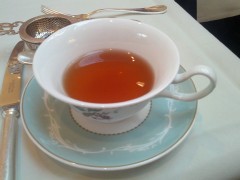 [Wednesday 21st March 2012]
This week was busy at work for social occasions. In addition to the new starter we'd been welcoming yesterday, we were also waving off a colleague who had been with us on assignment for a year or so, and was now heading back to the US. My manager had proposed doing something a bit special with a small group by way of a send off, so we went to the Savoy for afternoon tea.

I have to admit to being slightly unimpressed by their afternoon tea - in particular I found the staff to be very amateurish - from the Maitre'd who told us on arrival "You're going to be pleasantly surprised" (I think that's for us to decide, thank you) to our waiter who I suspect was probably placed there by that TV show "Faking It" as he really seemed to be bluffing his way through the whole thing, and rather unconvincingly so. On being asked about some of the glassware, he replied that the pattern was "Victorian Art Deco" clearly oblivious to the fact that those two concepts are separated by at least two decades. The food was as unconvincing as our waiter, if I'm honest, the scones were average, they didn't used particularly high quality clotted cream (and it was a measly serving for four people). I mentioned I was vegetarian and somehow was presented with a plate of smoked salmon. When I reminded them I was vegetarian I was then asked to plan my own alternative - or just more sandwiches. In the end I just had a plate of scrambled egg which I was somewhat underwhelmed by. I think I'll stick to the bar at the Savoy in future.

By the time we'd finished it was almost 4pm, and knowing I had plans in the evening too I couldn't in good conscience go back to the office and call it a full day's work, so instead I decided to just call it a half day's holiday. This left me with a couple of hours to myself before meeting up with Gav in the evening, and so I went for a stroll through Holborn, and decided to visit Dr Johnson's House, just off Fleet Street. There's not really a huge amount to see inside but it was quiet and rather atmospheric. I particularly liked the decor on the first floor, and made a probably unrealistic plan to try and do something similar when we eventually buy a place.

From there my wander continued in the direction of the City, and I eventually arrived at the Royal Exchange, which I sat outside for a while whilst I waited for Chie to finish work, and Gav to arrive.

Gav was visiting from California for a few days, and I was very pleased he'd been able to squeeze us into his no doubt busy schedule. Apparently he'd never really been to the pubs around Bank before, and so I showed him some of my favourites - including the Jamaica Wine House, the Counting House and of course the Lamb in the wonderful Leadenhall Market. We then had some fairly naff tapas in a chain tapas place there, but still, even if the food was uninspiring the setting certainly wasn't, and it was a good chance to catch up with Gav.



Post a comment