Gaylord
Posted on 2012/03/25 11:32:03 (March 2012).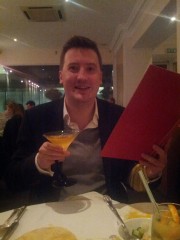 [Thursday 15th March 2012]
What with yesterday's day at the races, and having visitors at the office this week, I'd almost forgotten about my actual birthday, and so we hadn't really planned anything. We both decided we fancied curry though, and Chie reminded me about Gaylord, a rather smart looking Indian restaurant we'd walked past a couple of times and had been meaning to try.

It was really good - the surprise hit being the channa peshawari (I'm not normally a huge fan of chickpeas, but these were delicious). They also had a rice dish containing morel mushrooms, which was rather exciting.

So it was a quiet birthday evening - just the two of us - but very pleasant.



Comment 1
I really cant say much about ehiter candidate!Bummer. I really have no clue who I am voting for as both have more negative than postives in my book.Not going to be an easy decision!Havent posted on here in a while. Hope you guys are well!

Posted by chitra at 2012/04/23 06:36:57.