Windsor and Eton with Andy
Posted on 2012/03/04 09:48:13 (March 2012).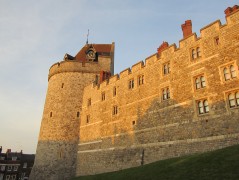 [Sunday 26th February 2012]
My friend Andy had just moved to Taplow (this morning, in fact), and had also just passed a Japanese test, and so had proposed meeting up to mark both of these occasions in the now traditional way of going for a pub crawl.

This presented something of a challenge, however, in that it turns out no trains stop at Taplow station on Sundays, and the place he'd moved to wasn't even particularly close to Taplow station to begin with. Moreover, even if I could get to where he was, there were no pubs nearby.

So the plan we came up with was for me to get the train to Maidenhead, then get in a taxi, pick Andy up on the way, and go to Eton. Chie and I had been to Windsor recently but we hadn't felt in a particularly pubby mood, so I was keen to take this opportunity to revisit some of the places we'd been to on my birthday a few years back.

On arrival in Eton I was fascinated to see there were students in uniform - on a Sunday. I think on previous visits we must have been outside of term time or something, and so I hadn't really seen them before. It's rather a smart uniform, not dissimilar to white tie, and interesting from a tailoring point of view. We passed the window of Tom Brown, the Eton tailor, which I'd been reading about recently as they also have a branch near Savile Row.

Anywho, the short study in sartorial matters quickly gave way to the main business of the day, and we headed to our first pub - the Waterman's Arms. It felt a bit shabbier than I remembered it - I had an image of it as a rather charming little olde worlde riverside pub, but they've since added a large dining room where they had a carvery, and somehow it seems to have lost its' charm a bit. It's mostly a locals pub - not necessarily a bad thing - but it seems a separate world from the ancient grandeur of nearby Eton College. Still, Andy seemed to like it, we had lunch there and enjoyed the local beer from the Windsor and Eton brewery. This was definitely the best beer of the day.

From there we headed over the river into Windsor, and went to the Horse and Groom, opposite the entrance to Windsor Castle, which was unsurprisingly full of tourists. We had the same beer as the previous place, which was more expensive and less well kept, which was a bit of a disappointment.

We fit in two further pubs - the Two Brewers and the Royal Oak. The latter of two really wasn't my sort of pub - they had sport on - but it was close to the station and we had time to squeeze in one last beer before my train. I didn't stay particularly late, as it was a Sunday after all, and was back home around 6:30.



Post a comment