Savoy
Posted on 2012/03/04 09:48:11 (March 2012).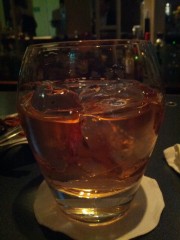 [Monday 20th February 2012]
In a new (and surprising, even to me) escapade to try and flee the mundane reality of everyday existence, this week I was keen to try and find where some of the London Fashion Week crowd might be hanging around. Chie was out with friends for the evening, so on a whim I decided to put on my suit, jump in a taxi, and head for the American Bar at the Savoy, which, being just a few doors down from Somerset House, seemed like the sort of place Stella McCartney and chums might go for a low calorie Martini after a hard day's work.

In the end I didn't actually see anybody from LFW there, and was informed by a member of staff that they were more likely to descend on the Savoy later in the week. I gave up on this ridiculous notion after this evening.

Instead, I was joined by people at the opposite end of the fashion spectrum - exactly the kind of people I am surrounded by on a day-to-day basis, and was trying to escape from: yes, software engineers. I mentioned that I was heading there to Ben, an American colleague of mine who has very good taste when it comes to food and drink (although sadly not so much in the dress sense department). We'd often discussed cocktails at work, he'd recently discovered the delights of a Pink Gin, and I was keen for him to try what I thought was the finest example of the breed at the Savoy.

Unfortunately he proceeded to try and bring with him about seven software engineering types from various parts of North America. Unsurprisingly several of them were turned away at the door (I am glad the Savoy maintains at least some minimal standards of dress code), but three of them did make it through, including Ben.

Still, I attempted to overlook the dearth of sartorial elegance in my new found drinking companions, and instead focused on some cocktail exploration. We were sat at the bar - always the best way at the Savoy - and so were able to talk directly to the chap behind the bar (pleasingly they remembered me from my previous visit). After encouraging my guests to have a couple of the American Bar stalwarts - a Hanky Panky and a Pink Gin, we then spent a while comparing the relative merits of different gins, including of course my current favourite Sacred.

So despite the stark reminder of the difficulty of shaking off the shackles of a career in software engineering, it was overall on some level an enjoyable evening.



Post a comment