Hyde Park
Posted on 2012/02/19 19:51:50 (February 2012).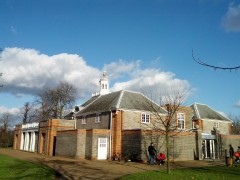 [Sunday 19th February 2012]
We'd originally considered getting out of London today, and we briefly entertained the notion of going to Rochester to see the castle and the cathedral. As is often the case though we ended up feeling like we couldn't really be bothered to go all that way, and decided to just do something in London instead.

We decided to go to Hyde Park, and catch the last day of the Lygia Pape exhibition at the Serpentine Gallery. I rather liked the centrepiece of the exhibition - Book of Time. It's a set of geometric shapes in mostly primary colours, all of them cut out of the same sized squares, and one for each day of the year. It reminded me a bit of favicons.

After this we continued on through Hyde Park to High Street Kensington, had the now usual tostada for lunch, and did a bit of shopping. From there we walked to Gloucester Road, did some more shopping in the Waitrose there, and go the tube back home.



Comment 1
samusou dakedo otenki ha yosasoudesune! kawaii hana mou saite irunone!!

Posted by yoko at 2012/02/21 14:35:45.