Pies, Battenburg, Kimchi, Tofu, Almodovar and Snow
Posted on 2012/02/05 13:50:00 (February 2012).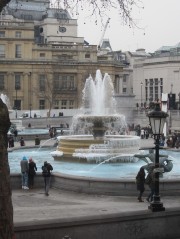 [Saturday 4th February 2012]
Headed out for lunch at M. Manze's Noted Eel and Pie House, wherein we both had the veggie pie, and I thoroughly enjoyed it as usual, although Chie, despite having proposed going here today in the first place, seemed a bit less sure as she often does. We did at least both agree that the mash was particularly good today. We noticed a sign on the door on the way out about the rise in eel prices owing to the decline in eel stocks, and a warning that eel stocks may soon disappear altogether. I resisted the temptation to suggest just not eating them any more.

As usual when we go to Manze's, we arrived on the C10 bus, but afterwards set out on foot in the direction of Tower Bridge. Whilst we'd normally cross it and then wonder what to do on the other side, today instead we decided to get on the RV1 which went to Covent Garden, although we ended up having to walk to London Bridge to catch it.

Once in Covent Garden Chie thought about doing some clothes shopping, but eventually decided it was just too cold, so instead we just headed over to Chinatown, bought some tofu in See Woo, and then got the 24 bus bound for home. Passing Trafalgar Square en route we noticed the fountain had partly frozen. It was pretty cold.

Back at the flat we had a warming cup of tea and a slice or two of Battenburg cake. I always liked this as a kid, and despite it being mass produced and probably full of chemicals it's one of those things I don't seem to have grown out of as I probably should. I then spent the remainder of the afternoon and some of the early evening engaged in various cooking tasks - marinating the tofu for tonight's dinner, and making a start on another batch of kimchi.

I made something akin to a teriyaki sauce to go with the tofu, with the fresh green peppercorns we bought in New Malden last weekend. I let the tofu marinade in it for a bit, then fried it with a bit of cornflour, and finally poured the sauce on top. It was pretty tasty.

In the evening it started snowing, and we sat inside huddled up against the radiator (our flat is usually almost always very warm, but somehow it felt a tad chilly today) watching the latest DVD Chie had received from Love Film: Almodóvar's The Skin I Live In. It was a little, err, unsettling in places but if nothing else it was certainly original.



Post a comment