Mezze with Dad and Janie
Posted on 2012/01/29 10:25:26 (January 2012).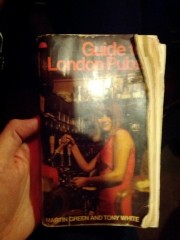 [Friday 27th January 2012]
Dad and Janie were in London again this evening, having spent the daytime visiting churches and museums in the city.

Like last night we again met at my office around 6, and then walked from there to where we'd be having dinner. This evening I decided we should have Lebanese food, but again wanted to go somewhere that we hadn't already taken Dad to before. So I put the old stalwart Noura out of my mind, and following a bit of research with Google Maps I decided to give one of the Maroush chain a go, and picked their branch on Beauchamp Place in Knightsbridge.

This was quite convenient from the office, so Dad, Janie and I had a pleasant stroll to there through Belgravia, with a stop off at the Nag's Head (where we actually managed to find empty seats!), wherein we read some of their copy of the 1965 Guide to London Pubs, as pictured here. Many of my favourite pubs today have an entry in there, including of course the Nag's Head itself, and pleasingly the description of it from over half a century ago is quite recognisable today.

So on to dinner, where we met Chie, and in many ways had a similar sort of dining experience to the previous evening - lots of mezze, the Middle Eastern answer to tapas. I wonder if the similarities between tapas and mezze have their roots in the Moorish Iberia period of history. Anyway, this seemed to go down rather well, although like yesterday I couldn't help but compare the place to Noura, which I think overall remains my favourite place for Lebanese food in London. The ful medames was definitely a bit of a disappointment here, although some of the other dishes (particularly the falafel) were perhaps a bit better.

Like the previous evening, we again got a taxi back to the flat, and rounded off the evening with a drink or two there.



Post a comment