Back to London
Posted on 2012/01/22 18:07:25 (January 2012).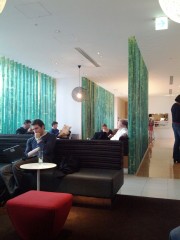 [Saturday 21st January 2012]
With irksome predictability the only time on this whole trip that I managed to sleep past seven was the one morning when I really needed to get up early. Somehow I had managed to set the alarm on my phone for 7pm rather than 7am, and so I was awoken by a phone call from reception to ask whether or not I was still planning to get on the 7:40 coach to the airport I'd booked, since it was 7:35 and I hadn't checked out yet.

Fortunately there was a coach an hour later which they booked me on instead, and would still be in time for my flight at midday. The coach is advertised as taking nearly two hours - it does the rounds of several hotels before leaving Tokyo, and Narita is a bit of a trek from there - but it actually ended up taking more like an hour and a half or thereabouts. So that was a relief.

After checking in I did the now traditional visit to Lawson, the conbini (convenience store) in the airport where I stocked up on various Japanese snack foods, not really having had much of a chance to do shopping earlier in the week. I then headed through security to the Virgin Clubhouse, which was unsurprisingly a much smaller affair than the flagship in Heathrow, but still more pleasant than the usual experience of hanging around in airports.

The flight was tedious, but not entirely unwelcome in that regard - given that I was nursing a bit of a hangover I certainly wasn't keen on a repeat of the outbound flight. I watched a couple of films etc, and read a fair chunk of the first instalment of Noel Coward's autobiography which I'm quite enjoying. I definitely find flying a less harrowing experience in Upper Class - something about having less people crammed in around me, and the staff being more attentive and referring to me by name makes me feel a lot more like a human being and less like an anonymous bit of cargo.

The flight arrived a little after 3pm, and Chie very kindly came to meet me at the airport, partly because we'd ordered some boxes of food to be sent to my hotel in Japan, and I had rather a lot to carry. It's always really nice being met an an airport.

We got the tube back to London together, and in the evening had a simple meal of spaghetti with some of the chilli oil Tanaka-san had given me (he'd gone a bit crazy and given me about seven jars of the stuff, bless him). I then spent the remainder of the evening trying to pretend I wasn't falling asleep in front of the telly. Which of course I was.



Post a comment