Last Day in Tokyo
Posted on 2012/01/22 18:07:25 (January 2012).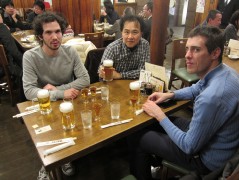 [Friday 20th January 2012]
Last full day in Tokyo of this trip. In the morning a colleague had proposed an expedition out to Shimo-Kitazawa to have what he considered to be the best espresso in Tokyo (and possibly the world) at a place called Bear Pond Espresso. It was snowing this morning which, in addition to disrupting the trains a bit, on arrival at the coffee place turned out to be more of a problem than we'd anticipated. The rather eccentric owner had decided because of a combination of the humidity and the cold that the espresso wouldn't be at its best, so was reluctant to serve us any. I never cease to be amazed by the crazy extents of coffee snobbery, and found this very entertaining - especially given how long we'd spent getting there. So I just had some "french press" coffee (what we'd call a caffetiere).

I was keen to see Tanaka-san again this evening as I'd been half asleep last time, and so we arranged to meet up in Asakusa in the evening, to revisit some of my favourite places around there.

I took pity on a couple of colleagues from the US and invited them along too, thinking that they'd otherwise end up stuck in foreigner trap bars in Roppongi.

We started out at Bar Kamiya, which apparently dates back to 1880 (although presumably the current building is much newer than that) and is one of my absolute favourite places in Tokyo. Whilst we normally just have one quick drink when we come here - partly because of the unusual ordering system that requires you to order and pay on your way in - this time I was enjoying it so much that I decided we should linger a bit longer. I particularly love the fried potatoes they serve here, which are reminiscent of the "roast" potatoes I had in school meals.

Tanaka-san is a very sociable type and didn't seem to have any problem fitting in with my US colleagues, although I did have to fend off a bout of him saying how he felt intimidated being surrounded by such smart people. The appropriate "herikudaru" counter to this in Japanese culture is for me to then belittle my colleagues - which I did by calling them lazy and stupid. Given that neither of them are intimately familiar with Japanese culture they were a trifle bemused by this, but I deemed it important that they learn.

Unusually for me, ever craving variety, I could happily have lingered in Bar Kamiya all evening, but eventually I decided for the sake of my guests we should move on to another venue. Tanaka-san suggested we go to his friend Kobayashi-san's place, wherein our group of predominately foreigners were thoughtfully hidden away in our own private room, presumably so as not to peturb the other customers.



Post a comment