Hotel Bars in Tokyo
Posted on 2012/01/22 18:07:25 (January 2012).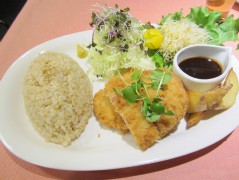 [Thursday 19th January 2012]
Like the last trip to Japan, I had again for no particularly good reason decided to bring my suit, and so this evening I decided to go and visit a couple of hotel bars to give me a chance to use it.

Before that though there was the matter of dinner, so I decided to try "Sofa vegestyle and kitchen" in Shibuya, an entirely vegetarian cafe. Again I really struggled to read the menu, exacerbated by the fact it was in a weird font and really faded. Given that five of the seven customers that were there when I was there were foreigners (by coincidence mostly British in fact) it was odd that they didn't have an English menu, or at least a Japanese menu that was printed properly in a sensible font. Anyway, after a while of struggling I ordered the "veggie katsu", although in hindsight I should have ordered something else as this was pretty similar to what I'd had at Rohlan last night, and obviously they Rohlan version would be the better of the two. This place seemed to err on the side of health food and as such my veggie katsu was served with brown rice (of which I'm not really a fan) and the sort of side salad that would be familiar in vegetarian restaurants the world over. So I wasn't exactly bowled over by the experience, but I guess thankful that it existed nonetheless. I also enjoyed being ridiculously overdressed for a vegetarian cafe.

The first hotel bar of the evening I wanted to try was the bar in the Cerulean Tower Hotel, mainly as a result of meeting Manabu Otake at the Savoy a few months ago, who is the head bartender there. Unfortunately it turned out he wasn't working this evening, so I just had a quick Martini and left.

From the window of the Cerulean Tower bar I could see Northwards to Shinjuku, and particularly the Park Hyatt building, which reminded me of some fun nights out there back when I was living in Japan. I thought it would be a shame to just go home as I was wearing my suit, and so instead purposefully headed in the direction of Shinjuku.

The New York Bar at the Park Hyatt wasn't really as fun as I remembered it, for a start I had forgotten how awkward it was to get to, being quite a trek from Shinjuku station, which was particularly irksome as it had just started to rain, and I didn't bring an umbrella with me. Once inside I was reminded it was really just expensive and touristy, and nobody makes an effort to dress up at all like they do at the nicer hotel bars in London. So again I just had one quick drink - a Negroni - which I had a hard time ordering as the waiter didn't seem to know what it was to begin with - and there was me thinking it was the International benchmark cocktail. This turned out to be a rather expensive quick drink as they have a really steep cover charge at the New York Bar. This combined with having to get a taxi afterwards as it was raining still made this a very extravagant little diversion, which I wouldn't have minded if I'd actually enjoyed it particularly.

I got back to my hotel - the Ritz-Carlton in Roppingi (which I was rapidly growing tired of) and as it was still early, I thought I'd give the hotel bars of Tokyo one last chance by going for a drink here. I like to think I've become pretty accustomed to expensive venues in the last few years, but when I looked at the cocktail menu here I was really shocked - the cocktails all seemed to be 9800 Yen. That's EIGHTY POUNDS at the current exchange rate. Eighty pounds, for one drink. Absolutely insane. So I flicked through the menu to the cheaper pages, and ordered a modest glass of campari, which cost a less terrifying 1700 Yen (although that's still more than the price of the entire bottle in a shop).

So all in all an expensive but just very disappointing evening. I wouldn't have minded the increasingly ludicrous prices if there had been any real sense of glamour, sophistication or high society in these places - but there wasn't. People were just dressed the same way they were anywhere else in Tokyo, and the decor was just the same standard issue in every venue - tediously dark and dimly lit, with the ubiquitous night time view of Tokyo that I quickly tire of.



Post a comment