Monday in Tokyo
Posted on 2012/01/22 18:07:24 (January 2012).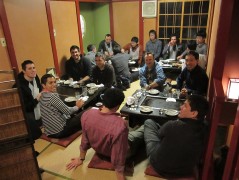 [Monday 16th January 2012]
First day in the Tokyo office of this "summit". Woke up early as always when jetlagged, and made it in before 9. Actually didn't spend the whole day in the office as we had a sort of tour of the city in the afternoon, ostensibly to highlight the challenges of the area we're working in for users in a "megacity" like Tokyo.

By early evening we were in Shibuya, where the afternoon's tour blended into a few drinks and dinner. Our host proposed a visit to "Nonbei Yokocho", an alleyway of tiny little old fashioned bars, each with on average about five seats in. The plan was for our large group to split up into four or five smaller groups and each go into a different bar. Never having been a fan of mass group dithering I led the first charge with a couple of colleagues from the US, and our arrival seem to terrify the old lady running the bar we picked, more so as everyone else was standing outside and continuing to dither. As the only Japanese speaker in our little sub-group I spent the entire time we were in there apologising to the old woman for our presence and our general existence and assuring her we were only going to have one very quick drink and disappear before any of her regular customers arrive. As promised, we paid up and departed swiftly as soon as out first hastily consumed drink was finished. So that was not very successful.

We meandered towards the place we were having dinner by way of the old Shibuya stalwart "Cafe de Ningenkankei Copain", which is definitely a lot more foreigner friendly, and one more bar where we rejoined the rest of the group, called Tasuichi.

Dinner was not a particularly successful affair, despite having said earlier in the day it would be far easier if I just did my own thing (having much experience of the difficulty of me finding anything vegetarian in Japan, which somehow seems even worse with big group meals) the organisers in the Tokyo office seemed fairly insistent that I come along, and that they'd find somewhere suitable. We went to an okonomiyaki place, and the waitresses' surprise and confusion when the issue of vegetarian options was raised suggested very little thought had been put into the venue on my behalf and I really should have stuck to my guns and gone somewhere else alone. Particularly irksome was one of the people from the Japanese office, who didn't realise I could understand Japanese, telling the waitress words to the effect of "oh don't worry it's not like he's going to die or anything", at which point I interjected and suggested that I would in fact die, violently and messily. The situation was only exacerbated by one other person in our group who had claimed to be vegetarian, but turned out to be somewhat half arsed about the whole thing, which seemed to lead to an air of "well if he doesn't mind, why should you?".

So I had some crap yakisoba there (which my colleagues then consumed more than half of as it was ready before their okonomiyaki), and left rather irritatedly not long after, as it seems they were all going to order second and even third batches, and I was aware my clothes were increasingly reeking of food I wasn't eating.

To cheer myself up I headed over to Gaienmae to visit a bar I rather like called Office, which, as the name suggests, is and office themed bar. I then headed back to my hotel from there, having made up my mind I would just do my own thing for the rest of the evenings this week.



Post a comment