Travelling to Dartmouth
Posted on 2011/12/30 10:30:59 (December 2011).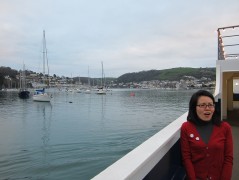 [Thursday 22nd December 2011]
Up early (for us) today to pack up our things for our week's stay on Darmouth. We headed out about 9 to pick up our hire car, then drove it back to the flat to load up all our stuff, and from there drove out of London in a South Westerly direction. I decided to avoid the fearful tedium of the M4 and go by the A303, thinking it to be both a bit more scenic and also more conducive to finding a nice little pub somewhere for lunch.

I decided on the Malet Arms in Newton Tony for lunch, where we arrived just after midday. Chie had a burger which was apparently quite good, I had something akin to a goat's cheese salad which was less exciting, but still the pub had a very nice interior and as a lunchtime stop-off it was significantly more interesting than a motorway service station.

We continued our journey South West from there, being treated to a nice view of Stone Henge shortly after leaving the Malet Arms, which seemed rather fitting as today was in fact the winter solstice. We just had one brief stop off after that somewhere around Ilminster as Chie was starting to get a bit sleepy and wanted a coffee. This was quite close to Ilchester, which pleasingly reminded me of Monty Python's cheese shop sketch.

I decided for a change that we should go down to Kingswear and get the ferry across to Darmouth, rather than the slightly longer road only route via Totnes. There's something about arriving somewhere on a boat that makes it that bit more special. It was still just about light as we crossed the Dart and the short ferry crossing was rather fun.

As it turned out we arrived at the house at exactly the same time as Vera, Robin and Robert. They've been to Dartmouth countless times, and stayed in lots of different places, but it was the first time in this house. It was all very modern inside, all of the rooms en suite, and a very well equipped kitchen.

In the evening we had a simple supper of some pies Robin et al had picked up in Dartington on the way down, and I knocked up some colcannon to go with them. After dinner Chie, Robin and I made a foray out to the wonderful Cherub Inn, always a highlight for me of any trip to Darmouth. It was a surprisingly mild evening and the stroll there and back was very pleasant too.



Post a comment