Greenwich
Posted on 2011/12/18 10:40:50 (December 2011).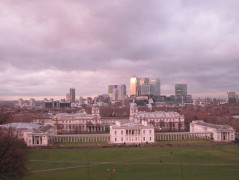 [Saturday 17th December 2011]
Still had quite a lot of Christmas presents left to buy, but I didn't feel like just going into the centre of London again today. So as a combination of remembering Greenwich had a shop selling board games, and also the fact that Mum had asked about the location of a pub she'd heard mentioned on the telly (which turned out to be fictitious, but was loosely based on the Cutty Sark), we decided to go to Greenwich.

We had the usual lazy weekend morning in first, including an odd sort of a brunch of Japanese/American style pancakes with some ful medames. I wonder if anyone has put these things together before - I guess pancakes are not a million miles away from the sort of flat bread you'd normally serve medames with - in shape if nothing else. We then headed out around 2ish.

We got the tube to Canary Wharf, then the DLR from there. As always we vied for one of the seats at the end of the train - this time we sat at the back. Somehow looking along the track gives a completely different perspective to looking out the side of a train, and both of us being closet train geeks we rather enjoyed it. When I asked Chie at the end of the day which part she had enjoyed most, the DLR was what she identified as the highlight

On arrival in Greenwich we headed to the market square, and in a pleasingly Cheese shop sketch fashion the board games shop turned out to be out of stock of Battleships. So we had a wander round the market, and did manage to pick up a couple of presents, and also had some Ethiopian food for a sort of late lunch from one of the stalls - a selection of vegetable curries served with rice. It seemed almost indistinguishable from Indian food to me, but I didn't mind either way as it was quite pleasant.

From there we headed up through the park to the observatory, complete with all the mandatory larking about on the meridian line. I was a little disappointed I couldn't seem to get the GPS on my phone to go from negative to positive by stepping back and forth over the line. I guess it's just not that accurate.

As it was starting to get dark we wandered back down the hill, treated to some nice views of Greenwich and Canary Wharf, and headed in the direction of the Cutty Sark pub. I was quite pleased with this find, and wondered why I haven't explored Greenwich bit more for pubs before. There's a nice staircase leading to the upper floor, from which we had a very nice (albeit slightly drafty) table in the bay window. There was something quite pleasing about looking out over the Thames at the lights on the skyscrapers of Canary Wharf from and 18th Century pub.

We headed back into London by way of the shopping centre in Canary Wharf, which was very reminiscent of underground shopping centres in Japan, as indeed Canary Wharf as a whole feels more like Tokyo than London. Rather confusingly they have a Waitrose "Food & Home" shop, which seems to a supermarket with a department store attached. Not unlike the Food Hall in the basement of the Oxford Street John Lewis makes it a department store with a supermarket attached. I like to imagine there's some kind of turf war going on amongst the partners in the corridors of power at John Lewis HQ.

Once back in the centre we finished off our immediate requirements for Christmas shopping in Hamley's, and then headed to Chinatown for dinner at Mr. Kong. I rather liked the fact we'd had American/Lebanese food for breakfast, Ethiopian for lunch, and Chinese for dinner. Obviously that brings the famous Dr Johnson quote to mind, especially when it comes to eating.



Post a comment