Pici al Pesto
Posted on 2011/12/10 09:32:13 (December 2011).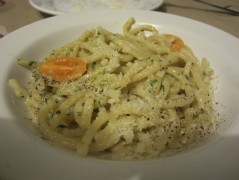 [Friday 9th December 2011]
I made pesto this evening, in a pestle and mortar - a bit of salt, a clove of garlic, some pine kernels, a vegetarian version of Parmesan, chopped basil, and some rather special olive oil. Lorenzo's Mum had given us some of the last batch of olive oil made on her parents estate out in the Tuscan hills, which they're sadly now in the process of selling. It's obviously far too precious to use for cooking, so I've been saving it for recipes like this when we can enjoy it raw.

I served it with "pici" pasta - a kind of thick hand rolled spaghetti, which we'd picked up a bag of in Italy. Although I say so myself it was really rather good.



Comment 1
Are you using this for your "Parmesan"?
http://bookhams.com/cheese-and-butter/

Posted by John's Mum at 2011/12/17 10:59:30.
Comment 2
I used to but recently I haven't seen that so much in the shops, so instead have been using Sainsbury's own brand "Italian hard cheese".

Posted by John at 2011/12/18 10:39:26.