Tweed Run
Posted on 2011/11/27 09:23:43 (November 2011).
[Saturday 26th November 2011]
I'd just heard about today's Tweed Run from a colleague yesterday. It was far too late to actually enter, and besides I don't have a bike. Nonetheless I was keen to go along and take a look, never wanting to miss an opportunity to witness such a heavy concentration of tweed in one place.

After taking a few snaps of the tweed clad cyclists at the starting line in Covent Garden, Chie and I headed to Notes for some coffee. I'd been here once before for a kind of tasting session, and today we had two different coffees from their Brew Bar. I sort of like the fact that coffee geekery is way over my head, and I don't recall any of the specific technical details of how the two coffees were produced or what exactly the beans were (although I do remember a mention of Mt Kilimanjaro), other than one was sort of smokey, an the other was sort of fruity. No prizes for guessing I preferred the smokey one, and Chie preferred the fruity one.

This led quite nicely into lunch, and I decided to take Chie to Spud, the jacket potato place I'd been to a couple of weeks ago for the first time and had rather liked. I'm not sure I was quite as excited by it second time round - maybe because it was earlier in the day and the potatoes hadn't had quite as long to cook - but still it was filling and quite satisfying.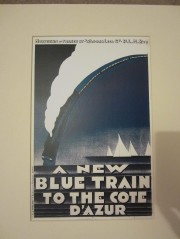 We then did a bit of shopping - I bought a couple of prints in Storeys on Cecil Street, in particular a reproduction of a poster advertising "A New Blue Train to the Cote d'Azur" which rather jumped out at me, having retraced that famous route twice now - in March this year and in summer 2009. It's a copy of this lithograph from 1928 by Pierre Zenobel, which recently sold at Christie's in Paris for €5,250. Mine cost under a tenner.

We also headed to Chinatown to buy some Chinese ingredients from See Woo on Lisle Street (in particular vegetarian "prawns") - before getting the bus back home.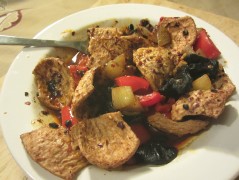 Headed out again a little later in the afternoon to go to Sainsbury's, and in the evening I made Chinese food. I always like to make more than one dish when cooking Chinese: one was soya slices (we get these ones with a particularly good texture from Taiwan via Japan) in a pepper and black bean sauce, and the other vegetarian prawns and pak choi with garlic, ginger, sake and mirin. I also made some hot and sour soup to start - I have no idea what the recipe is supposed to be for this, I just improvise with chilli and rice vinegar. I was extremely pleased with how well cooked both dishes were, but the black bean dish turned out to be terrifyingly hot. The jar of black bean sauce we'd picked up at See Woo today had looked innocent enough, I'd only used a teaspoonful (ish), and the modest description on the label had barely prepared us for the reign of terror it was about to exact upon our tastebuds. As a result neither of us dared finish this dish, and found ourselves cautiously picking out bits that didn't look too threatening and trying to scrape the sauce off. It was somehow very tasty though, just in a somewhat frightening way.

After dinner we watched the latest DVD Chie had received from Love Film - Maurice. As often seems to be the case with period dramas I found I enjoyed it more for the clothes than the actual story. After the film I found myself searching on ebay for an old white tie tail suit.



Post a comment