Day Out with Ai-san
Posted on 2011/11/26 09:05:28 (November 2011).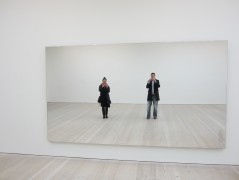 [Tuesday 22nd November 2011]
As Ai-san didn't have any specific plans for her few days in London, today I took the day off and offered to show her around a few of my favourite places.

We started off with breakfast at my office. Ai-san had already been to the Regency Cafe yesterday, it turns out she actually quite likes English breakfasts, although I suspect more out of nostalgia for her university days than any serious gastronomic interest.

From there we walked to the Saatchi Gallery, and looked around the "New Art from Germany" exhibition. I'm not sure Ai-san is really a big fan of contemporary art but was pleasingly open minded (or perhaps this is just Japanese politeness?) and happy to have a wander round anyway. Probably the highlight was Jeppe Hein's "Mirror Wall" - a large vibrating mirror. Looking into it for more than a couple of seconds quickly introduced a kind of sea sickness, and yet it was oddly compelling.

After the Saatchi Gallery, and a quick wander around Partridge's, we headed to Sloane Square tube, and from there went to Temple.

The remainder of our day out was then a tour of antiquities in and around Temple and Holborn. We started with a peek at the Old Roman Bath and the Watch House on Strand Lane. From there we went for a walk around some of the grounds of Inner and Middle Temple, two of the Inns of Court, and popped into Temple Church. It turns out Ai-san was quite familiar with the Da Vinci Code and so had heard of Temple Church, which was helped allay my concerns that I was just taking her on a tour of a lot of crusty old relics she wasn't particularly interested in.

From there we headed past the Royal Courts of Justice - by way of the most gorgeous cash machine in London (in the rather splendid tiled entrance to the LLoyds TSB law courts branch) - to Carey Street, and the Seven Stars. I bored Ai-san for a while with the usual spiel about what an amazing survival the pub is, given the Great Fire of London destroying everything to the East in 1667, the construction of the Royal Courts of Justice wiping out everything on the South side of the street in the 1870s, and the Aldwych / Kingsway improvements causing many of the old buildings to the West to be demolished. Were it not for the important Lincoln's Inn (another of the four Inns of Court) to the North the pub likely wouldn't have survived. Ai-san patiently listened to all of that, but in reality was of course far more interested in the pub's new cat, Ray Brown, who kept us company over lunch. The pub's landlady, the characterful Roxy Beaujolais, was there for a while when we arrived, and as we were the first customers of the day we had the opportunity for a bit of a chat which was an added bonus.

After lunch we headed up through the grounds of Lincoln's Inn - which has a wonderful Oxbridge college feel to it - and out across Lincoln's In Fields to the John Soane Museum. This was the big highlight of the day for me - I'd been wanting to go for some time, but it gets really busy at weekends and so I'd been saving it up for a day off like this, mid week. A large part of the museum is devoted to John Soane's collection of architectural pieces. Some original, some plaster casts, of all sorts of columns, pillars, statues, corbels, cornices and other architectural details which are displayed in a maze like series of little rooms and passageways. He also built up a rather impressive private art collection, including some fantastic pieces by Canaletto and best of all recent favourite of mine, William Hogarth. I was particularly excited to have a chance to see the originals of A Rake's Progress up close. Apparently John Soane would have lots of visitors in his own lifetime who came to admire his collection, and as such the artists would use it as a sort of showroom, based on which reproductions of the originals could be sold.

We fit in a few more antiquities after that, including St. Etheldreda's Church and Ye Old Mitre. I was quite surprised by the number of people that were in the Mitre around 3ish on a weekday afternoon - don't these people have jobs or something?

We meandered our way back to Temple from there, and got on the tube back towards SW1. Ai-san decided to return to Sloane Square to do a bit of omiyage shopping in Partridge's, and I decided to go home first for a bit of a late afternoon nap.

In the evening we headed back to Holborn once more, and met up with Chie, to go for dinner at an Italian restaurant called Ciao Bella, which my attention had been drawn to by reading James Sherwood's blog (James Sherwood being the author of the book I read recently on Savile Row, and therefore someone I assume to have all round excellent taste). I'd seen Ciao Bella before on Lamb's Conduit Street, close to the Lamb Tavern, but had always previously dismissed it assuming it would be a bit naff. Well if it's good enough for James Sherwood, it must be good enough for me. So we gave it a go. It was more of your sort of homely comfort food type of Italian fare, a bit different to what I've recently got used to with all the upmarket Italian eateries in and around Belgravia and St. James's, but regardless (or perhaps because of that) I rather liked it. We started with some baked scamorza and aubergine, and some reassuringly pungent garlic bread. For main course we ordered for four (although there were only three of us) and I had a vegetarian version of spaghetti putanesca (i.e. without the anchovies). It was rich, saltly (even without the anchovies), oily and the spaghetti was al dente - simple but very satisfying. The place is obviously hugely popular - we were packed in like the anchoves they had left out of my spaghetti putanesca, They seem to have found a niche of down-to-earth and reasonably priced Italian food which is nonetheless more genuine than anything you'd find in a chain, but without being just plain naff as so many low end Italian places in London are.



Post a comment