Cocktails at the American Bar at the Savoy
Posted on 2011/11/26 09:05:28 (November 2011).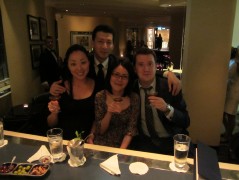 [Monday 21st November 2011]
We left our guest Ai-san to her own devices in the daytime today, thinking she'd be tired after her flight, and would probably just want to slob around and do her own thing.

In the evening the plan was to get dressed up and go for cocktails at the American Bar at the Savoy, the next on my list of famous hotel bars in London I wanted to visit. We'd suggested this to Ai-san before she came to London and pleasingly she seemed very keen on the idea too.

Given that neither of the girls are particularly sturdy drinkers, it seemed prudent to eat before the cocktails ensued, and Chie proposed Wahaca, partly because it's fairly close by, partly because it is very popular in London at the moment, partly because Mexican food isn't very common in Japan, but perhaps mostly because Chie has been saying for some time she really wanted to eat their churros (Mexican doughnuts) again.

It did seem a slightly incongruous venue to be in with a suit, tie, pocket square and cufflinks, and I more or less lost my appetite as I was near paralysed with fear of dropping any part of the messy finger food they specialise in at Wahaca on my suit. I did however quite enjoy a mojito, which got me in the mood for more cocktails.

From there we headed to the Savoy, and to the American Bar therein. We initially sat at a table, but it was a bit dark and uninteresting, and shortly after we arrived a rather loud piano player started playing very close to us, so I decided we should move and sit at the bar instead. In hindsight this was an inspired bit of thinking, as not only was it lighter, quieter and had nicer decor, but the evening was much more fun as a result.

After my first cocktail (I chose a White Lady, mainly just on the basis of it being one of the Savoy's famous drinks) I got chatting to the barman, and started to describe the things I liked in cocktails. So for the second drink we mutually agreed a Savoy Pink Gin would be the right thing to have. This was rather splendid but contained a frightening amount of gin. I followed on from that with the bartender's recommendation based on what he'd inferred about my tastes - a cocktail which wasn't on the menu called the Argentina cocktail. This was quite delicious - probably the best drink of the evening - but alas the only ingredient I remember was he orange bitter.

Whilst talking to the bartender we asked about a couple of trophies we had seen behind the bar, one of which was for the Diageo World Class Bartender of the Year award. It turns out the head bartender at the Savoy, Eric Lorincz, had won this competition last year. He then mentioned this year's competition, which had been won by a Japanese bartender Manabu Otake.

By an amazing coincidence, a short while later, Manabu Otake came and sat down at the bar next to us - this took the bartender by surprise as much as it did us! Apparently he was visiting London for a few days to do some promotional work in connection with the competition, and was very keen to try some of the best cocktail bars in London during his trip. I felt very pleased with my choice of venue for the evening at this point. We got chatting to Manabu-san who I like to think was quite pleased to see some friendly Japanese faces. He was clearly itching to get behind the bar, and our friend the bartender had him mak a White Lady, which made for a couple of great photo opportunities.

I really enjoyed our evening at the Savoy, it was easily the most fun of the evenings we've had at the other hotel bars in London over the last few months. I made a mental note to always wherever possible sit at the bar - much more fun than sitting in isolation at a table.



Post a comment