Saturday in Tuscany
Posted on 2011/10/30 11:44:20 (October 2011).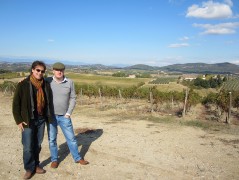 [Saturday 22nd October 2011]
Had a slightly more lazy morning, and eventually got up and headed out to help Lorenzo move some boxes about between his various abodes. Whilst we were visiting he was in the process of moving from a place where he'd been living out in the countryside, to a flat in the city, and also to complicate matters we were staying at his Mum's house for the weekend, where some of his stuff was also stored. So there was a sort of triangular moving process going on.

We eventually headed out of the city around 11:30, in the direction of Lorenzo's place in the country. It's in a rather spectacular spot, with amazing views of Tuscan scenery. The type of scenery that we're so used to seeing on TV or in films - or even in paintings - that when you're actually in it somehow it looks almost unreal. Particularly as we were treated to lovely blue skies today.

We had lunch at Lorenzo's place in the country - pasta with some home made pesto - which was very good. For dessert we had some Macaron I'd bought in Sprüngli in Zurich. After lunch we headed for a drive through the wonderful Tuscan countryside in the direction of San Gimignano, a fortified medieval town which is quite popular with tourists, which made for a stark contrast to the seemingly deserted landscape we'd driven through to get there. Still, crowds of tourists aside it's still a very attractive place to visit.

Next on the itinerary was another Tuscan town - Greve in Chianti - right in the heart of the famous winemaking region. It seemed pretty much obligatory to buy a bottle of Chianti while we were there, and we had an entertaining time trying to explain to the guy in the shop that I wanted one made without any isinglass. Also in Greve we stopped off for a late afternoon / early evening drink at a place specialising in microbrewery beers, which, bizarrely enough, was apparently sort of affiliated with CAMRA. Who'd have thought it?

After that we headed back to Florence, stopping off at the famous view point as we were entering the city to take some pictures of the Duomo and other landmarks by night. We then spent a bit of time back at Lorenzo's Mum's house, being enteertained by the cat, before heading out to local restaurant or a simple dinner of pasta followed by a drink at a German beer bar.



Post a comment