Milan to Florence
Posted on 2011/10/30 11:44:20 (October 2011).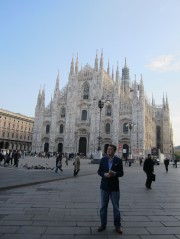 [Friday 21st October 2011]
We awoke relatively early - considering we were on holiday - in our hotel in Milan, as we'd booked for a 9:45 viewing of Da Vinci's the Last Supper, which is painted on the wall of the refectory at the Santa Marie delle Grazie convent in Milan. Conveniently it was just a fairly short trip on the Metro away from our hotel.

They only let 20 or so people at a time into the room where the Last Supper is, and you have to go through a kind of airlock to get in. The time slots are quite strictly observed, and you have to leave after 15 minutes. Our group was amusingly almost entirely composed of Japanese tourists. We didn't really see any Japanese people elsewhere in Milan - it's not really much of a tourist destination. Anyway, the painting itself is quite an impressive thing to behold, even if you're not particularly a fan of religious artwork.

After viewing the Last Supper we were fittingly peckish, and fortunately were well placed for a late breakfast at a pasticceria called Biffi, which I'd found on the web because it's apparently one of the oldest cafes in Milan. We had a quick standing coffee and some pastries there which was rather nice.

We then started to head into the centre, in the direction of the Duomo, but stopped off en route at another old bar I had found on the web called Bar Magenta. I felt a bit mean to go in without buying anything, so that meant another coffee and a pastry. Not quite as nice as Biffi, but the interior was sort of interesting.

Next stop was the Duomo, which is rather impressive, and generally regarded as the one sightseeing highlight in a city that, as noted, isn't otherwise much of a tourist destination. We went inside first, had a bit of a wander around, and then decided to go up on the roof - by stairs, rather than the lift, as it was a few Euros cheaper, and we probably needed the exercise after our eight or nine course meal last night. Whereas with some buildings going up on the roof is more about taking in the view of the surrounding area, with the Duomo it's actually still the building itself which remains the most interesting part - it gets you very close to all the fine Gothic masonry, in amongst the spires and flying buttresses.

After the Duomo we went for a wander round the Galleria Vittorio Emanuele II, the very grand shopping arcade near the Duomo. It's more or less the same set of high end Italian brand shops you see on Bond Street in London or Fifth Avenue in New York, or whatever the equivalent is in Paris. Still, the galleria itself is rather impressive with its high vaulted glass ceiling and mosaic tiled floor.

We'd sort of ran out of things on our to do list by this point - around midday - it had all taken less time than we imagined, so we pretty much spent the last few hours we had in Milan wandering around aimlessly. Unfortunately we hadn't researched where to go for lunch, and so despite our best efforts to go to a place where it looked like locals went, we still ended up in bit of a tourist trap. A particularly cunning tourist trap at that - the place was split into two halves, a sort of bar at the back where all the Milanese workers went for a coffee and a sandwich, and then a seated are at the front where tourists were marshalled into, to be served overpriced drinks and badly cooked pasta. Oh well, never mind - they didn't actually poison us at least.

We visited the canal district (Navigli?) of Milan after lunch, and immediately realised we should have gone there for lunch instead - there were lots of little eateries which looked much nicer than the place we had gone to. Oh well. After a bit more aimless wandering we eventually started to head back in the direction of Milan Centrale, to pick up our bags, and get on the train to Florence.

I had been slightly apprehensive about what the train might be like, given how the trip from Zurich to Milan yesterday had got gradually worse as it neared Italy, but actually I was very pleasantly surprised. The Milan to Florence train was comfortable, clean, fast, on time and generally very pleasant. Moreover it was still running on a day when lots of train staff in Italy were striking (the large number of "cancelled" signs on the boards at Milan station had been a bit disconcerting!). We got talking to a fellow passenger on board, a lovely chap called Alessandro, who informed us this was the only good train left in Italy now. So we felt pretty lucky overall.

We arrived in Florence at 6, although the Lorenzo had got stuck in traffic, so we had a bit of a wait before we met him. Apparently the traffic was partly a knock on effect of the rail strike. Anyway, eventually he arrived and it was an absolute delight to see him as always.

We were going to be staying at his Mum's house for the weekend, so we went there first to drop off our bags, then headed out for the evening. We started with an aperitivo - apparently quite a popular thing in Italy recently, where early in the evening bars provide free snacks with the drinks. Apparently this custom originates in Milan, although the timing hadn't quite worked out for us to be able to go anywhere offering that while we were there. Lorenzo took us to a wine bar he likes in Florence, called Piazza del Vino. I get the impression they're much more interested in the quality of the wine than going overboard on the accompanying snacks, but we had some of that very thin crispy bread (whose name I forget) with some cheese and olives, to go with our wines. We each had a different type of Italian sparkling wine, two prosecco and one other.

For dinner I'd suggested going for pizza, and so Lorenzo took us to a Neapolitan pizza place he likes, called Trattoria Santa Lucia, where we were joined by Lorenzo's friend Federico. The pizza was pretty good, but it occurred to me that probably gone are the days of coming to Italy and having pizza which was just unassailably better than anything I'd had in the UK - there are some really excellent pizza places in London now, and to be honest I don't think there's a lot in it any more.

We rounded off the evening with a cocktail at a bar I don't remember the name of, where apparently footballers playing for Fiorentina sometimes go to drink.



Post a comment