Zurich to Milan
Posted on 2011/10/30 11:44:19 (October 2011).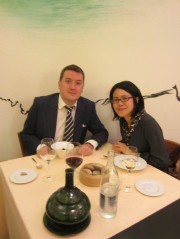 [Thursday 20th October 2011]
Spent the morning at the office in Zurich, then downed tools at lunchtime, from which point on I was officially on holiday. Up until now this week had been a pretty standard business trip to Zurich as I'd done several times before, but from today the Grand Tour really kicked off in earnest.

After leaving the office, going by way to my hotel to pick up my luggage, I went to Zurich station, to get on the train to Milan. Having always travelled to Zurich by rail, I've often looked on enviously at the Milan train which I've frequently seen on the platform there, being filled with a desire to travel just that bit further by train. So I was very excited I'd finally be getting on that train.

It got off to a slightly uncertain start, as it seemed the actual train that we were supposed to be getting on hadn't made it all the way to Zurich, so instead we'd have a replacement train for the first 40 minutes or so of the journey. Still, the replacement train, albeit a bit old, was still pleasant enough, my seat in first class was very comfortable, and as we left Zurich I started to soak up the very pleasant views as we climbed the foothills of the Alps.

So after the first 40 minutes or so we changed trains onto what I had hoped would be the "proper" train, but there seemed to still be some uncertainty even then about whether this was now the actual train or not: we were told we'd have to change trains again later on, and this train didn't have the same layout as the original train our seats were reserved on, so it was just a free for all. Luckily it wasn't too busy so I was able to find a spacious solo seat in first class with a table and a spare seat opposite for my things.

Still, undeterred, I got settled and enjoyed the even more dramatic views as we passed through the Alps - I don't think the pictures really do it justice (it was hard to get a decent picture because of the glare from the sun and the reflection in the window) but this was one of the most scenic train journeys I've ever been on.

Eventually after crossing the Alps, somewhere around the Swiss-Italian border, we were required to change trains again, onto a really grotty old Trenitalia train. Again the seat reservations didn't seem to be valid, and even in the section which was apparently first class it was a bit cramped and just plain dirty - I daren't imagine what second class would have been like. Still, thankfully this was only for the last 40 minutes or so of the trip, so it was just about bearable, and I had enjoyed the Alpine scenery so much on the middle section of the journey that I didn't really mind too much.

I arrived in Milan just after 5 (about 20 minutes behind schedule, but on a roughly four hour journey were they had to introduce two additional changes I suppose that isn't too bad). Milan Centrale is quite an impressive station, and I was immediately very excited to be in Italy, so any minor grumblings about the slightly-less-than-perfect train journey quickly subsided. We'd booked our hotel right next to the station, so a few minutes later I had checked in, and was out for a stroll in Milan, while I waited for Chie to arrive (who was flying rather than taking the train). It's not a particularly lively or picturesque area around Milan Centrale (which despite the name isn't really very central) but it was interestingly nonetheless - I was excited just to be in Italy.

Chie got a bus from the airport, and we met outside the station around 7. After dropping her bags off at the hotel and getting changed we headed out for the evening. I'd booked us a table at 8 o' clock at Joia, the world's only Michelin starred vegetarian restaurant. It seemed we were the first customers in, but as the night wore on a lot more people arrived - in particular a large group who sat at the back and kept standing up to make long speeches every now and again.

As for the food, the pictures probably tell the story best. We both went for tasting menus, and, if you count the amuse bouche and the post-dessert nibble at the end, that ended up meaning something like nine courses. As always with these tasting menus it was a mixture of hits and misses, but I particularly enjoyed the vegetarian version of foie gras, and the potato and truffle soup. Overall though very enjoyable.

I'd spent a bit of time before coming to Milan researching on the web, in the hope of finding some of Milan's oldest bars. It had proved quite difficult, at least partly because there wasn't much information on the web about that kind of thing in English, but also because olde worlde isn't something they really go for in Milan it seems. Still, my search hadn't been entirely fruitless, and so after dinner I decided we should take a much needed stroll in the direction of Bar Basso.

Bar Basso is famous as the birthplace of the Negroni Sbagliato, or "wrong" Negroni. It's the third in the line of a progression of Campari based cocktails - beginning with the Americano, which had its soda water replaced with gin to make the Negroni. The Sbagliato then evolves that further to replace the gin with sparkling wine (presumably prosecco). So of course I had to have this famous cocktail as my first drink at Bar Basso, and very good it was too. After that I attempted to use Google Translate on my phone to ask them what their second most popular cocktail was. A bit of grunting and gesturing later and they were mixing me another drink, whose name I don't recall, in a terrifyingly large glass goblet. Thankfully it also had a terrifyingly large ice cube in it, so it didn't end up actually being a massive quantity of booze. This tasted, to me, somewhat similar to the first drink - the flavour of Campari (or possibly Aperol in this case) tends to just overpower whatever else is in the glass. Still, I was enjoying myself nonetheless.

Part way through this second drink a large and somewhat inebriated bald Italian man started trying to talk to us, and seemed to be very hard to convince neither of us could speak Italian. I think he was just trying to be friendly but he ended up just saying the same sentence over and over again, which eventually got a bit irritating, so we took that as our cue to leave and headed back to our hotel. Still, that aside I really liked Bar Basso - there was something really quite adventurous about ordering drinks in a country where neither me nor Chie speaking the language at all, and in this bar at least nobody seemed to speak English either.



Post a comment