Tuesday in Zurich
Posted on 2011/10/30 11:44:19 (October 2011).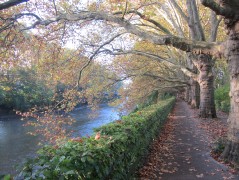 [Tuesday 18th October 2011]
Worked at my company's office in Zurich in the daytime - my main reason for being here, as usual, was to take part in a promotion committee. We had a lot more candidates to review than usual this time, and as chair I also had to hang around a bit after everyone else left to do some "paperwork" (obviously not actually on paper though). So it made for quite a long day, it's quite an intense thing, and I was pretty knackered by the end of it.

Alas everybody I know at the Zurich office had disappeared by the evening, so I had to go out for dinner by myself. At least it wasn't hard to decide where - like every other trip I had to make at least one pilgrimage to Hiltl (Europe's oldest vegetarian restaurant) during my time there, and tonight seemed like as good a night as any. I had the vegetarian version of steak tartare to start with, which was really interesting, followed by the usual Zuri Geschnetzeltes. Delicious as always.

After dinner I decided to go for a drink at a place called the Oepfelchammer, which I'd found on the web by trying to search for Zurich's oldest bar. It wasn't exactly a bar as such, more a room off the side of the restaurant where you could sit and order drinks. I usually have no qualms about going into places by myself, but some facet of not being able to speak German (it turns out I forgot almost everything I was taught at school), and the odd claustrophobic nature of this place, made me feel quite self conscious. So I just had one quick glass of wine and then left. Still, it was an interesting experience. Every single wooden surface has a named scratched into it, which made it feel a bit like a room in a lunatic asylum or something. Apparently this is part of a ritual at the bar where you have to climb through the rafters, then drink a glass of wine upside down. To my slight relief on this particular evening a more sedate group of clientele were present - or maybe it was just too early in the evening - and no such high jinx occurred.



Post a comment