Narita to Heathrow
Posted on 2011/10/03 05:33:44 (October 2011).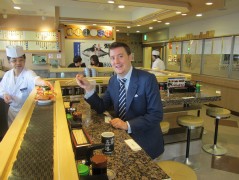 [Sunday 2nd October 2011]
Our flight was at 11:30 this morning, but thanks to the impressively fast "Keisei Skyliner" from Ueno to Narita (it takes about 45 minutes, quicker than the JR Narita Express) we didn't need to check out until about 8:20, so we didn't have to get up obscenely early.

I decided to wear the jacket from my suit to the airport, partly to reduce the chance of it getting creased, but also partly because I live in the vain hope that one day I'll get that elusive free upgrade, that I keep hearing about happening to other people, but never happens to me. I've heard in the past that dressing smart can help your chances. It clearly didn't help mine. Still, we were already booked in Premium Economy at least - I pretty much refuse to fly normal economy nowadays, which is just horrendously uncomfortable - but that stil leaves me looking enviously at the bar in the Upper Class section. I still just can't bring myself to pay the huge difference in price for Upper Class.

Rather oddly we decided to have some sushi for breakfast at the airport before going through security, immigration etc. That was quite fun.

The flight was tedious and unpleasant as always, and the food was pretty bad this time too. As always I'd booked vegetarian meals, and my first meal was some incredibly badly cooked penne with a very dry tomato sauce and a few bits of mangy looking courgette and aubergine on top. On the standard menu in premium economy in Virgin there's usually also a vegetarian option (and I never really understand why this is usually a different thing to the pre-booked vegetarian meal). So I asked if I could swap my awful penne for that instead - it was a vegetable lasagne. It wasn't fantastic either but it was certainly an improvement - at least this dish included a sauce that was, you know, actually liquid.

I was also somewhat irked at one point during the flight when one of the cabin attendants came and asked me if I could "slightly" close the shutter to the window by my seat so that people could sleep. I asked to clarify that he didn't need me to close it the whole way, and he seemed to agree. So I pulled it down about three quarters of the way, and he went away. Seconds later one of his colleagues then emerged and told me to close it completely. Perhaps this was some sort of language problem (both the attendants were Japanese), and the original attendant didn't really mean to say "slightly", but it gave the impression that the first attendant had gone and complained to the second one that I wasn't being cooperative (whereas I think at 75% closed I over delivered on the initial request of "slightly"). As far as I was concerned, this was a daytime flight - it left Japan at 11:30am, and landed in London at 16:00. It follows the path of the sun, and is daylight the whole way. At no point in the flight were you in a timezone at a time of day where you would normally be asleep. I can never sleep on planes under any circumstances, and I rather resent as a result having to sit in a dark, claustrophobic cabin most of the way so that other people can indulge in their freakish and unnatural sleeping habits. People that are able to sleep in the loud, uncomfortable and downright unpleasant environment of a plane must in my opinion be either drugged up or narcolepsy sufferers. I doubt one shutter being 25% open will particularly cause a problem for either of these classes of people.

More or less every time I fly Virgin there's some sort of small but irritating incident like this (oh and I never, ever, ever get a free upgrade) that makes me think I'll try a different airline next time. The problem is I think they're pretty much all terrible, so I guess I end up just sticking to the devil I know.

The one positive highlight of the otherwise largely irksome flight was the first film we watched - Woody Allen's Midnight in Paris. I'm not usually a huge Woody Allen fan but this film really appealed to me - probably a lot to do with all the 1920s glamour in it. The rest of the films I watched were pretty awful though.

We landed at 4pm UK time. As, unfortunately, did several other planes. I have never seen the queues for immigration so bad - there must have been thousands of people packed into that hall. Luckily the UK/EU passports queue (which Chie can use when she's travelling with me it turns out) moved reasonably quickly, so we were "only" queueing for 20 minutes or so, but I really pity all the Japanese people, and other nationalities, who were in a much slower moving queue. It must have taken many of them at least an hour to get through, possibly even longer.

Took the tube from Heathrow back to the flat. We had been treated to a view of central London from the plane just before landing, including a clear view of the square we live in. It was a little frustrating that from there to actually getting home took another two hours. It was also a little frustrating that London was hot on our return, and apparently had been for a fair chunk of the time we were away in Japan - after that terrible summer. Typical.

Didn't really do anything for the remainder of the evening, I started to unpack a bit, and put a load of washing on, then spent a while watching Countryfile and the Antiques Roadshow and trying to convince myself I wasn't falling asleep. Ended up going to bed before 9 - probably a mistake.



Post a comment