Akihabara, Kinshicho, Shinjuku and Ueno
Posted on 2011/10/03 05:33:44 (October 2011).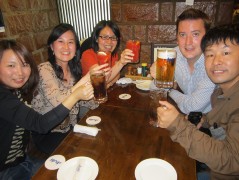 [Saturday 1st October 2011]
Our last full day in Japan today, spent in various parts of Tokyo. Had a bit of a lazy morning in our hotel in Ueno (for most of this week, particularly when we'd been traveling around Kyushu, we'd generally been getting up reasonably early, so having a lie in for a change was quite nice). Towards the end of the morning our thoughts turned to food, and as by this point lunchtime was approaching we abandoned thoughts of breakfast, and instead decided to head to It's Vegetable, the Taiwanese vegetarian restaurant in Kinshicho, which conveniently was only 10 or 15 minutes away from Ueno on the train.

On the way there, we stopped off in Akihabara. My previous camera had developed a rather annoying smudge on the lens/CCD on a trip to Cambridge this year. I hadn't been able to dislodge it myself, and assuming it wasn't really repairable I'd just bought a new camera this summer instead. Chie however was determined to have a go at getting it fixed, and having previously popped in to a Bic Camera (the electrical shop where I bought it in the first place) on this trip, we'd been told there was a Panasonic service centre in Akihabara which could do same day repairs. So we dropped it off there before lunch.

Had a very nice lunch at It's Vegetable, which also seemed quite healthy. They've changed their previous lunchtime all-you-can-eat buffet to a probably-much-more-sensible weight based system now, so I ended up not over eating, and just picking the things I really wanted to eat. Although we did also order a half roast mock chicken in addition to our bento boxes, which was quite delicious.

After leaving there we headed back to Akihabara, and picked up the camera, with that annoying smudged now removed. I was really impressed by the service here - the camera was about two years old, no longer under guarantee, but they charged less than 4000 Yen (about 30 quid) and had it done and ready for collection in less than two hours. Whenever I've considered having any kind of repair done to an electronic device in the UK I've pretty much always ended up not bothering, as it's usually more expensive than just buying a new one, not to mention all the faffing about of having to send it off somewhere, and then probably have to wait weeks for them to do it.

From there, we walked back to Ueno, by way of a Japanese sweets cafe where we had an-mitsu. We also took a stroll through Ueno park, where they had a small antiques market today.

After a brief rest back at the hotel, we headed out again for the evening.

In recent years when visiting various parts of the world I've taken to searching for "oldest pub/bar in X" as a way of finding somewhere interesting to go, and to expand my enthusiasm for old pubs in England into an International scope. It's usually less fruitful outside of England, where drinking establishments are often just not cherished and preserved in the same way they are back home. This is particularly true in Japan, where constant rebuilding is the norm, and with the exception of temples and castles, for most types of places, being old seems to actively put people off. Still, undeterred I had found at least a couple of references on the web to an izakaya not far from Ueno called "Kagiya", which was purportedly the oldest in Tokyo, so as we were in the neighbourhood we decided to start our evening with a quick drink there.

We chatted to the owner a bit (and one of the regulars) who didn't really say yes or no when I mentioned that I'd heard it was the oldest izakaya in Tokyo - instead he just said thank you. On further probing, it seemed that on this site there had been a place selling alcohol (interestingly a lot of foreign alcohol - wines etc - at certain points in history), possibly as far back as the 1600s. If I understood correctly it became an izakaya in the 1800s, although the current building is not the original one. As an added twist, in fact the original building still exists, and has been moved to the Edo Architectural Museum. So, just like my mission to pin down the oldest pub in London it seems similarly hard in Tokyo to come up with a conclusive answer. Anyway, whether it really counts as the oldest izakaya or not, it had a great atmosphere, and is somewhere I never would have thought to walk into without the prompt of its' potential historical significance.

From there, we rushed to Shinjuku as we were a bit late for our next appointment (it turns out it is hard to pop into a local izakaya for one very quick drink, they tend to expect you to eat something, and stay to chat for a bit). We'd taken Nozaki-sensei and Kaori-san out for dinner when they were in London recently, and they were keen to return the favour. So they treated us to dinner at their favourite tempura place in Shinjuku - called Tsunahachi. It's apparently rather popular, and I felt quite guilty about skipping the queue on the way in, as Nozaki-sensei and Kaori-san already had seats for us at the counter upstairs. Tempura is usually one of the more vegetarian compatible foods in Japan, and I had a selection of mushrooms and Japanese vegetables. Perhaps not the most exciting ingredients I've ever had at a tempura place in Japan, but it was all cooked perfectly in front of us by the chef, who also gave us strict instructions on which salt/sauce to dip each item. I invariably forgot these instructions, and just did whatever I liked when he wasn't looking. We had sake with the food - a very easy-to-drink daiginjo, from Iwakuni (the place with the famous hump backed bridge).

After dinner, we met up with some of Chie's university friends (Hide-san, Asuksa-san and Yumi-san) and went for a drink at a tiny little whisky/cocktail bar. I didn't really like it all that much if I'm honest - the drinks took absolutely ages to arrive, the staff seemed a bit frosty, and it was really claustrophobic. After one drink I proposed we change venues. Nozaki-sensei and Kaori-san left us at this point, leaving just us "students" to go to one last bar - I proposed the Asahi beer hall round the corner, as I remember it being fairly lively. Just had one drink there, as the staff seemed to want to close up early - they told us it closed at 11, but came round and told us it was last orders for drinks just after 10.

Hide-san, Asuka-san and Yumi-san all had long distances to travel home, so they all left us after that, but as it was our last night in Japan, and I didn't feel tired at all, it seemed a shame just to go back to the hotel and go to sleep. So we got the train back to Ueno, and went for a bit of a wander around the bars etc in that neck of the woods. As I mentioned yesterday, Ueno has a really different feel to Shinjuku - a lot less showy, a bit rough around the edges - but not necessarily in a bad way. After a bit of a wander around the backstreets and alleyways we chose a bar where the tables spilled out into the street (not that common in Tokyo actually), and, although it was heading towards closing time it was still fairly lively. A group of young Japanese guys managed to empty the entire contents of their table onto the street, presumably by accident, and the ever-smiling girl working in the bar told us it was pretty much a nightly occurence as she wandered over to sweep up the broken glass. The people seemed smiley and friendly and a couple of them waved at us as they left. We barely ever came to Ueno when we lived in Tokyo, and both of us decided it's somewhere we should spend more time in on future trips to Japan.



Post a comment