Hiroshima
Posted on 2011/10/01 08:50:59 (October 2011).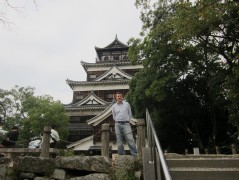 [Thursday 29th September 2011]
We had another full day in Hiroshima between our trip to Kyushu and returning to Tokyo, but didn't really have anything planned for it. Chie wanted to go out and do some shopping with her Mum in the afternoon, and correctly surmised that I would be quite happy to just leave them to it. Instead I spent some of the afternoon with Chie's Dad, who took me to see Hiroshima Castle. I'd actually never been in before. Being in central Hiroshima it was of course completely rebuilt after the war, but then most castles in Japan seem to have burnt down and been completely rebuilt at some point or other. I hadn't realised that the original castle, and the city of Hiroshima, actually dates back over 500 years. The inside of the castle is a museum of old Hiroshima (non of which really survives today of course) and I found it quite interesting.

We met up with Chie after that, and drove to the dreaded Soleil (the giant shopping complex in Hiroshima) although it wasn't actually that bad this time, as we spent most of the time there having coffee, and doing food and drink shopping. The kind of shopping I like. As it was the last night of this trip that we'd see Chie's parents (not that I ever really need an excuse) I bought a half bottle of Veuve Clicquot, and decided to try the demi sec for a change. I understand that it shows a lack of education about wines to be instantly dismissive of anything sweet, but I think demi sec as a style of Champagne is something that is going to take a bit of getting used to.

Chie's Mum made the usual feast for dinner, helped by Chie today, and I had a kind of nabe with the kimchi I'd been barely nibbling at all the time we'd been in Hiroshima (as it was a bit too fiery to eat by itself) and some things we can't so easily find in the UK - like gunman and those little bags with mochi in, whatever they're called.

After dinner, partly to do something (else) special for our last night in Hiroshima, but also because I'd rather stupidly brought my new suit to Japan for no particular reason, we went out for drinks at the cocktail bar in the new Sheraton Hotel in Hiroshima (which we mainly chose because it was close to the station, and therefore easier to get to - even though we ended up using a taxi both ways). Chie's Dad isn't really into this sort of thing so decided to leave us to it, but Chie's Mum jumped at the chance to go somewhere a little out of the ordinary. Cocktails in Japan seem to typically be long and fruity concoctions, and they don't seem particularly accustomed to the more traditional American/European style of classic cocktails, e.g. martinis. I was pleased to see here though that the cocktail menu was entirely recognisable to Western eyes, probably at least partly because Sheraton is an American hotel chain. I had a reasonable martini (a lot smaller than I'm used to in the UK though - I guess the Japanese aren't ready for a large measure of what basically amounts to neat gin) followed by a kind of approximation to an Aviation. It wasn't on the menu, and the bartender hadn't heard of it, but I roughly described the ingredients and ended up with something in the vague viccinity.



Post a comment