Takachiho and Jikoku Onsen
Posted on 2011/09/29 04:10:13 (September 2011).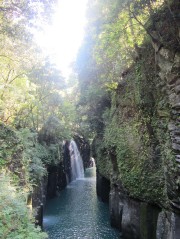 [Tuesday 27th September 2011]
Today we eschewed the shinkansen as we'd planned to go a bit more off the beaten track and explore some other parts of Kyushu. So instead we picked up a hire car in Kagoshima, and motored North, heading for Takachiho, a famous Kyushu attraction where there are some very scenic waterfalls.

We arrived in Takachiho around lunchtime, ate lunch quickly in the car (we'd picked up things at a roadside shop en route), and then ventured out to see the waterfalls. They were rather nice, but as always in Japan we were jostling for the view points with bus loads of Japanese tourists.

From there, our next major destination for the day was the Jikoku Onsen (jikoku literally means "hell"!) where we'd be staying the night, but en route we stopped off at a few places, including an odd sort of art museum thing in a partially constructed railway tunnel, which had to be abandoned when they hit an underground river. The river now flows through the tunnel, and most of the exhibits are suspended above it. It seems the current exhibition is a series of things made for one of the summer festivals by local people. It was a bit odd and quirky, and I kind of liked it for that.

We eventually reached the Jikoku Onsen around 5, where we then stayed for the rest of the evening. It's a fairly traditional style ryokan, our room had sliding doors, tatami mats and so on. After a quick drink on arrival, we had time before dinner to go for our first dip in the baths. We decided to start with the least culturally awkward approach - they had two rooms with private baths in, where you could have sole occupancy. The water was very hot, and quite sulphurous - it also had a distinct milky blue tint to it.

Dinner was a sort of barbecue affair, Chie had already relayed instructions about a vegetable only version for me. As they basically just gave as a plate of raw ingredients and we cooked them over the fire ourselves it was relatively free of the usual risks of stealth meat / fish, but it was just a bit bland really.

After dinner I plucked up the courage to go into one of the communal baths - in particular the one they use on the posters advertising this place, which is in an old timber framed building with beams separating the baths into a few different compartments. It was a mixed onsen after 9:30, so Chie and I could go along together. Again the water had a slightly other worldly blue-ish tinge, and the smell of sulphur was pretty strong, but the temperature was good, and there was quite a special atmosphere to this place. Probably some wabisabi, I expect.



Post a comment