St. Peter Port, L'Eree Bay and Castle Cornet
Posted on 2011/07/24 11:34:12 (July 2011).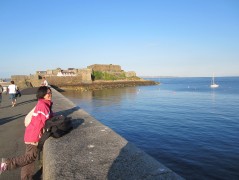 [Friday 22nd July 2011]
Started off the day with breakfast on our balcony, which was rather nice, even if the vegetarian options at breakfast at our hotel were somewhat limited.

Spent the remainder of the morning in St. Peter Port doing a bit of family tree research. My Great Grandfather, Vernon John Charles Hawkins, had lived on Guernsey for a few years in the 1890s, and it seemed he had also met his wife there, and their first three children were born there too. I'd been able to find that much out just from looking at census records which were available online, but the exact birth and marriage records were only available actually on the island. Conveniently all these records were available in the Priaulx Library, just a short walk from the hotel.

It was a reasonably successful exercise - I was able to find entries in the birth and baptism registers for my Great Grandfather and his two sisters who were born on Guernsey, but couldn't find a marriage record. These were filed by church which made it rather laborious to search for - especially for someone not familiar with the island, like me, who doesn't know where all the churches actually are. Anyway, eventually I decided to call it a day - it seemed a bit unfair on Chie to be stuck indoors for any long period of time given that the weather wasn't actually too bad today - so we left the library just before 12, and headed out for a walk around St. Peter Port. In doing this research I'd found names of streets where the family had lived at various times, and I wanted to go and see them all. They all seemed to be fairly close to the Randalls brewery, which seemed significant, as that was the trade my Great Great Grandfather was in. We also visited the Town Church, where the records told me my Great Grandfather and his younger sister were baptised (on the same day).

For lunch we returned to the Chip Inn, and decided to try their cheese and chips, which seems to be quite popular in the Channel Islands. Again we ate on the seafront, and again we were watched by a hopeful seagull the whole time.

After that we returned to our hotel for a bit of a lounge about in our room (there's no point in having a suite if you're never actually in it) and to plan what to do for the rest of the day. We decided in the end to take the bus to see the other side of the island - and in particular we wanted to see the causeway leading to Lihou Island, although we knew in advance we wouldn't actually be able to get across. It seems the tides vary at different times of the year, making it inaccessible for several days at a time, even at low tide. So we got on the funny little bus which pootled slowly over to the other side of the island, had a look at the causeway to Lihou, and then walked back some of the way round L'Eree bay to Fort Grey, where we then had a long wait for the bus back to St. Peter Port again.

Once back in town, we had a quick drink at the Albion House pub (again, a bit rough around the edges) and then headed over to Castle Cornet to see some of the open air music festival being held there this evening. It was also a great chance to walk around the castle for free!

For dinner we headed back into town, an after a bit of umming and arring decided to eat at an Italian restaurant called Da Bruno which was a bit naff in a charming sort of way, and had a nice view out over the harbour.

We finished off the evening back at our hotel with a couple of drinks at the bar, and, oddly enough, a game of Scrabble in the lounge.



Post a comment