Plemont Beach and A Night Out in Rozel
Posted on 2011/07/24 11:34:12 (July 2011).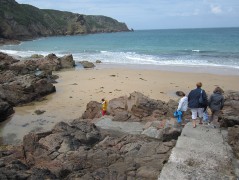 [Tuesday 19th July 2011]
After two rather miserable days of weather at the start of our holiday, the sun was actually shining this morning! So we started off the day with a nice breakfast in the conservatory of our hotel, before hurriedly getting our things together and heading out for the day.

I was determined while the weather wasn't miserable that we'd make it to a beach, and so we headed to Plemont Beach, which I'd read about on the web before coming to Jersey. On arrival we realised that it wasn't actually accessible - the part I'd neglected to read a bit is that it is completely covered until it gets pretty close to low tide. Fortunately though we were only a couple of hours away from low tide, so we decided to go away and come back later.

So in the intervening time we went to visit the ruins of Grosnez Castle. Although the castle itself isn't really that interesting to look at, it is positioned on a rather nice vantage point with some good views out to sea, and along the rest of the Coastline of this north westerly tip of the island. So that made for a pleasant diversion.

After that though, back to the beach, and we were among the first people on it when the lifeguard opened it up for the afternoon. I didn't feel it was quite warm enough to actually want to swim, but it was definitely pleasant enough to go barefoot, and have a bit of a paddle. There were lots of interesting caves and assorted nooks and crannies to explore, and having been freshly washed by the sea just minutes before our arrival the beach was in pristine condition - this was definitely one of the highlights of the day, and of the whole week in fact.

We decided to meander back towards our hotel after this - keen to have afternoon tea on our balcony while the weather was still nice. We stopped off en route briefly at Greve de Lecq, and had a swift half at the old mill inn there. It was ok but reinforced the feeling I was getting that they just don't really have lovely olde worlde pubs in the Channel Islands - whilst the building was probably genuinely old, the decor inside (with the exception of the exposed mill workings behind the bar) was more indicative of a something from the 1980s. It all just looked a bit tacky and rough around the edges - which seemed to be the case for pretty much every pub we saw this week.

We were back at our hotel for around 3, and ordered afternoon tea out on our balcony. It was a simple affair - just scones and clotted (Jersey) cream - but very pleasant nonetheless (with the slight exception of a single but very persistent wasp).

After tea we then wandered down to the Hungry Man kiosk, mindful that, although we weren't really hungry, if we didn't go now we probably wouldn't get another opportunity. I had managed to find this place on Street View when researching the holiday. I had even more or less been able to read the menu on the boards outside - and was suitably impressed with the number of vegetarian choices. So I indulged in a rather excellent veggie sausage and bacon bap. I loved everything about the Hungry Man kiosk - an al fresco greasy spoon by the sea in a tiny little village with no shops and only a couple of other places to eat. It also had a similar vintage to the Regency Cafe (both established in the latter half of the 1940s).

In the evening, we weren't really hungry, but were mindful of the fact that a lot of places on the island stop serving food fairly early. So we decided to take a drive down to Gorey - the other ferry port on the island - and have a bit of a wander around, taking in the nice views of the castle to be had there. I'd found a sort of gastropub on the web called Castle Green, and so we popped in there but were told they were fully booked. Neither of us were particularly disheartened by this given that, as I said, we weren't actually particularly hungry. So we just drove back to the hotel, and decided we'd make do with whatever we could find in Rozel, the little village where our hotel was.

We started off with a drink at the Rozel Bar and Restaurant, although it turned out they don't serve food at all on Tuesday evenings. There was also a little tearoom in the village, but this (like the Hungry Man kiosk) only opened in the daytime. So our remaining options were either the Navigator restaurant, or back to the hotel. Fortunately the Navigator was open and had one last spare table, so we ate there. It was a delightfully tiny little place, overlooking the sea, with a predictable but nonetheless charming nautical decor. It was basically just a single room - not many more than 20 covers - and with the chefs working in an open kitchen the other side of a counter. The food was Italian and very seafood oriented, but luckily there was one vegetarian dish on the menu - the "fettucine Popeye" - i.e. with spinach. We both rather enjoyed it here.



Post a comment