Brighton
Posted on 2011/06/26 10:00:44 (June 2011).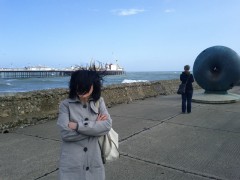 [Saturday 18th June 2011]
My much loved and well worn brogues had got a hole in them - a big split across the sole - and with all the wet weather we'd been having recently this was becoming a real nuisance. One of my feet would be soaked through almost as soon as I went outdoors. So it very much seemed like time to buy a new pair of shoes.

As tradition now dictates, this means a trip to Brighton, which is still bafflingly the only place I've found selling decent vegetarian shoes in the UK. In fact, the only place I've found in the world really - during my last trip to New York I'd had a search about on the web, and the only shop I'd found selling "proper" non-leather shoes was in fact reselling the ones made by the Brighton based company.

Anyway, we were both feeling a bit lethargic in the morning, and umming and arring about whether we could really be bothered to go all the way to Brighton. Especially since we'd realised the crazy difference in ticket prices - if we'd gone from Victoria, walking distance for us, the day return would be £22 each. For some reason though going from London Bridge worked out at just £10 each. Having learnt that I was then loathed to be needlessly ripped off, but that did mean the additonal hassle of getting the tube to London Bridge. Oh and it was raining again.

Eventually we mustered the required enthusiasm, and got on a train at London Bridge just before 2.

On arrival in Brighton we proceded straight to Vegetarian Shoes, where I bought two pairs, a slightly worryingly pointy pair of brogues, and some "Liam" shoes, which were a sort of fake suede. We then headed on from there for a very late lunch at Food for Friends, a vegetarian restaurant which is a bit of an institution in Brighton, having been going for 30 years (and, fittingly enough, I realised I last went to when it was almost exactly half as old as it is now). That was actually a bit of a disappointment, but maybe that was partly down to having just chosen the wrong thing from the menu, and/or the strange time of day we went at.

To make up for our slightly disappointing lunch, I proposed going for ice cream, and thanks to Google Maps found a very good little place doing Italian style gelato. Alas it was a bit too windy to eat our ice creams on the sea front, so we just sat in the sheltered little alleyway outside the shop. After that we thought we'd brave the sea front for a bit, and as you can hopefully see from the pictures it was extremely blustery - it didn't really feel like the middle of June. Oh well, at least it wasn't raining in Brighton.

We gradually meandered through the Lanes and the North Lanes from there back to the station, including a visit to Infinity Foods (a really good health food shop with lots of vegetarian stuff), and got the train back to London around 6 o' clock. I realised we'd only been in Brighton for around three hours, but had packed a lot in and it was really fun as always.



Post a comment