Chie's Exam
Posted on 2011/06/05 14:14:19 (June 2011).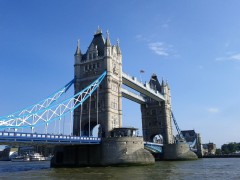 [Saturday 4th June 2011]
Today was the big day of Chie's exam, which she'd been studying for since the end of January - and after which she'd have the rest of the year "off" - meaning she'd just be doing a full time job, rather than a full time job plus he course - until next January.

The day started rather badly, she'd booked a taxi with Addison Lee several days ago, and a couple of minutes before it was supposed to arrive she got a text message saying it was going to be up to 20 minutes late. By the time it actually arrived it was close to 30 minutes late, but by then Chie had already left and got in a black cab instead. Even then she only just made it there in time, thanks to road closures in the City. A rather stressful episode she could have done without just before the exam!

I spent the morning working, and then headed out about 2:45, thinking I'd go over to East London so that I could meet Chie after her test (which was being held at Excel, in the docklands). I got the jubilee line to Canary Wharf, and then a brief trip on the DLR from there to Westferry, where I got off and retraced the steps from a riverside walk I'd done a couple of times before, which was designed to be punctuated by the pubs along the Thames there. Today it was more about the walk than the pubs, but I couldn't resist stopping off at one or two, and particularly enjoyed a visit to the Prospect of Whitby, all the more for having been reading Samuel Pepys' Diary recently, who is said to have gone there.

In the end I didn't actually meet Chie after her test - she went for drinks with a couple of friends who had also taken the test, and I decided it would be better if I headed home and made dinner for us.

Somehow I decided I'd push the boat out and make pizza - including making my own dough for it - something I haven't done for years. The end result was surprisingly not that bad, especially considering the rather quick and approximate way I went about it.



Comment 1
totemo suteki na shasin desu!!

Posted by yoko at 2011/06/07 16:04:14.
Comment 2
What exam is that John?

Posted by Lox at 2011/06/08 08:01:05.
Post a comment