Le Creuset and Eurovision
Posted on 2011/05/15 20:26:07 (May 2011).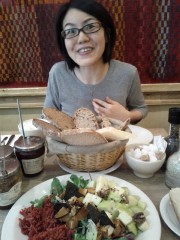 [Saturday 14th May 2011]
Most of the daytime spent indoors, I was slobbing about the flat in an appallingly lazy manner whilst Chie did some studying for her course. I watched a huge amount of telly, including all of Saturday Kitchen, a pirate themed film called the Spanish Main, and even some of the horse racing.

Did eventually manage to drag myself out of my fit of slothfulness towards the end of the afternoon, and we set our mind to going out to buy a Le Creuset casserole pot (whatever you call those things you can put on the hob and in the oven). So we headed over to King's Road. Having not really had much for lunch, we started off with a snack at Le Pain Quotidien (these places seem to be enjoying a bit of vogue in London in the last year or so). From there, we did a bit of shopping at Waitrose (thinking we'd actually need something to cook in the Le Creuset) then headed to Peter Jones where we spent a long while dithering over the size, colour etc, before eventually choosing one.

Back at home I made gnocchi with spinach, asparagus and mushrooms in a cheese sauce - in the new Le Creuset, of course.

Watched the first two instalments of Two Greedy Italians on iPlayer, and absolutely loved it - perfect timing with my sudden Le Creuset induced new found love of cooking. I enjoyed it so much, in fact, that I completely forgot about the Eurovision final, and tuned in around when the last song was finishing - although I guess I'd seen all the songs already in the semi-finals. So I did at least get to see the voting, which is oddly always quite entertaining.



Comment 1
I watched the final votes from Australia believe it or not and thought it was just a waste of time really... Everyone (and I mean EVERYONE) kept saying "thanks you for the marvellous show Germany blah blah blah"... Boring... Le Cruset great buy, they make lovely cast iron pots!

Posted by Lox at 2011/05/17 22:14:33.
Post a comment