Sandwich
Posted on 2011/04/24 12:52:29 (April 2011).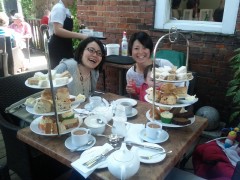 [Saturday 23rd April 2011]
As the weather was unseasonably warm over the Easter weekend we didn't want to be confined to the flat the whole time, so had decided some kind of afternoon out was called for today. After consulting Chie's Japanese guidebooks to England we decided to go and visit Sandwich in Kent for no particular reason other than it looked quite nice in the pictures, and we hadn't been before.

This worked out rather well though - en route we gave our friends Leon and Yukari a call, as they live in Canterbury, and we thought we could pop in on the way back or something. As it turned out though they were at a bit of a loose end, and seemed happy to take little Aiko-chan out for a ride in the car and join us on our foray to Sandwich.

We spent most of our time there at the tearoom (or more appropriately sitting outside the tearoom) at the Salutation Hotel, part of the "Secret Gardens of Sandwich". We went for the full afternoon tea, which came on particularly large three tier cake stands , and none of us could finish. One might think being in the eponymous town they'd make more of a big deal about their sandwiches (were this Japan there'd be a sandwich museum, sandwich souvenirs, somebody dressed up as a giant sandwich, and so on) but other than the usual (but very pleasant) little cucumber sandwiches that come as part of afternoon tea the bread based snack format was barely lauded at all here.

We also had two good strolls round the town (one before Leon and Yukari arrived, and one after tea) which is filled with some really lovely old buildings - some dating back as far as the 15th century. I also loved the fact that there were still lots of little local, independent shops here - it has its own ironmongers, for example.

We got a lift with Leon and Yukari back to Canterbury West which made our return trip home a lot faster - although the new High Speed line makes getting to Kent much faster, the outer reaches like Sandwich are still on funny old little branch lines.

Once back in London we went back by way of Rice Wine, where we bought all the usual Japanese provisions for a late and light Japanese dinner - what with all the cakes and clotted cream this afternoon it was very refreshing to have something to eat which wasn't in any way dairy based!



Comment 1
ji ga ookiku natte yomiyasuku narimasita! otenki yosasoudesune. fuji no hana ga saiteimasune.

Posted by yoko at 2011/04/25 09:21:03.
Post a comment