On the Way Back
Posted on 2011/04/24 09:47:10 (April 2011).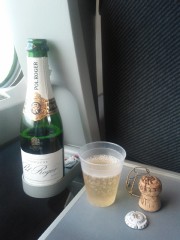 [Thursday 21st April 2011]
Spent the morning at the Zurich office which was again very pleasant - even more so than the previous day in fact, as the office was almost deserted ahead of the long Easter weekend, and I had a room all to myself.

My train was at 1 o' clock, which worked out very well - it meant I had time for an early lunch at the office at midday, after which I headed back to my hotel to pick up my bag, and from there on to the station, giving me just enough time to stock up on things for the journey before getting on the TGV.

Again I was in first class, which was very spacious and comfortable, although the would be idyllic traveling experience was occasionally marred a little by an annoying noisy child. There are signs on the wall telling you not to use your mobile in these carriages, and it seems a bit ironic that in the past I have several times seen passengers ticking off other passengers when their phones go off, but seemingly no-one says anything about the noisy child.

To make up for my disappointment on the way here that there was no Champagne in the bar, I'd picked up a half bottle in the station in Zurich before boarding this time. However, logistically this was the wrong way round - I wanted to drink the Champagne in Champagne, which was near the end of the journey this time, by which point it wasn't particularly well chilled any more.

Arrived in Paris around 5:30, and again headed over to Le Train de Vie for a quick pastis - although I don't think the owner showed any signs of recognising me yet. From there I wandered over to Gare du Nord, and immediately regretted doing so, as there isn't really anything of much interest in or around the station. I did at least buy some croissants from a nearby boulangerie, but then eventually felt the tug to go and do as Eurostar was telling me, and check in 30 minutes before my train was scheduled to leave, and go through all the irksome passport controls and security checks. I really look forward to the day this is all done away with - and it isn't clear to me why it is even necessary today. Traveling between France and Switzerland is blissfully easy - just like going between two cities in the same country - and Switzerland isn't even in the EU! Yet again Britain drags its heels on modernisation whilst the rest of Europe carries on without us.

The Eurostar is always a bit of a come down after the "proper" TGVs in France. Partly it's all the security kerfuffle, but partly it's the fact that it usually costs significantly more and always seems cramped and uncomfortable by comparison. Pretty much every time I've done this trip now I've travelled first class on the TGV, and standard class in Eurostar, and the Eurostar is always the more expensive of the two. It's about 420 miles from Paris to Zurich, versus 300 miles from London to Paris. The return trip London to Paris on the Eurostar cost £174 versus £160 for the TGV Paris to Zurich. Plus the Eurostar trains themselves are starting to look really tired and shabby. I've taken when traveling alone to normally sitting on the little fold down seats in the space at the end of the carriages, to avoid having to jostle for the elbow rest in a cramped two seater with a stranger.

I arrived in London around 8:30, and Chie came to meet me at St. Pancras. We headed over to Drummond Street for dinner, where we ate at the Ravi Shanker.



Post a comment