Cambridge
Posted on 2011/04/10 09:12:07 (April 2011).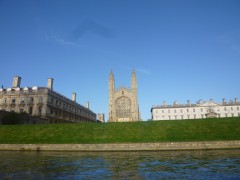 [Saturday 9th April 2011]
Our friend Junchan, and her boyfriend Arnaud (who we hadn't met before) were going to be in Cambridge over the weekend, as Arnaud had a conference to attend on Monday. So given that Cambridge is just a short trip on the train from London it seemed like a very good opportunity to meet up.

Chie and I left London just after midday, as Chie and Arnaud already had plans for the afternoon, and we were going to meet up at the end of the afternoon / in the early evening.

It was a glorious day though, and on arrival Chie and I thought we'd make the most of it and take a stroll down the river Cam to Grantchester, for a late lunch / early afternoon tea at the Orchard Tea Rooms, made famous by poet Robert Brooke, of "Forever England" fame, and his Neo-Pagan chums. We had a fairly respectable ploughman's there (the lunch part) and of course a couple of scones and tea (the afternoon tea part) beneath the apple blossoms in full bloom. It was rather idyllic.

So idyllic in fact, that we hadn't really been keeping an eye on the time, and realised at 3:30 that we only had an hour to get back to Cambridge before King's College closed. I was really keen to see inside the chapel, having been chastised by Robin following our last visit that we didn't go in. So we took a slightly less leisurely stroll along the Cam from Grantchester back to Cambridge, which is, even in haste, a rather lovely way to arrive in the centre of Cambridge.

We just made it to King's with a few minutes to spare, and whilst there bathed in this splended example of perpendicular Gothic architecture at its finest, with it's stunning fan vaulted ceiling. It is rather awe inspiring.

On exiting we had a quick stroll around the grounds, and rather frustratingly I noticed all of the outdoor pictures I'd taken had a strange upside down V shape mark on them - I tried wiping the lens but to no avail. I suspect that may spell the end of this camera, after a mere 18 months. Ho, hum.

After a quick bit of shopping to buy a jumper (I'd come out today wearing just a shirt, but was aware it would probably start to cool off significantly as it turned to evening) we went to meet up with Junchan and Arnaud, and the puntsman (?) who'd be taking us on our tour.

It was rather lively out on the river, given the glorious weather a lot of students (or just generally young people) were out larking about on punts - I wonder there aren't more accidents. Still, to the backdrop of that we were treated to the classic views from the water of the colleges, with commentary from our oarsman / gondolier / whatever you call him. I think this went down rather well with Junchan and Arnaud.

Next on the agenda, as the afternoon turned to evening, was eating and drinking. Thanks to Hotpot (now, incidentally, renamed to Google Places) I'd been able to find my friend Kyle's favourite pubs and eateries here in Cambridge, and so we proceeded to base our itinerary on that. First, we headed to the Free Press, a lovely little locals pub in the backstreets of Cambridge, where we also had dinner. It was a very English menu (things like Gammon and Lancashire Salad) but I think that was reasonably well received by our French dining companion. The beer also seemed to go down rather well. We spent a fair while here, but had time for one more pub before Chie and I got the train, so headed to one of Kyle's other favourites - Cambridge Blue. This was a lot livelier, and had a huge selection of beers (lots of real ales plus also a lot of bottled Belgian beers). We tried a couple of ciders here - Pickled Pig and St. Hellier's.

After that we headed to the station, said our goodbyes, and got on a train back to London.



Post a comment