Indian YMCA and Shopping
Posted on 2011/01/29 14:20:09 (January 2011).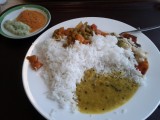 [Saturday 22nd January 2011]
Tried lunch at the canteen at the Indian YMCA for the first time - it was very good. Not that I've ever been to India, but I imagine the food here is closer to what it's actually like in India - it was tasty but wonderfully simple, and quite different from the usual rich, oily fare to be found at Indian restaurants in Britain. Plus it was a pleasing novelty to sit and eat Indian food surrounded by Indian people - how often does that happen in an Indian restaurant in the UK?

After this we did a bit of furniture shopping - looking to buy a stool, mainly because of our upcoming Burns Night where I'd realised we didn't actually have enough seats for everybody. However we couldn't quite make up our minds and so ended up not buying anything.

Chie had an appointment to get her hair cut in the afternoon, so we moseyed in the direction of Soho, by way of somewhere for a coffee - Hotpot recommended a place called Flat White, an Australian style coffee place. I don't think I'm really enough of a coffee connoisseur to understand the popularity of this place, but I suppose it was pretty good.

Whilst Chie was getting her hair cut I went and bought some Japanese food for dinner, and then headed home. On arrival at home I realised I'd been overcharged to the tune of £10, so turned around and went back into the centre again. After sorting that out I hopped on a bus heading for Knightsbridge, with a plan to meet up with Chie, who had taken her new hair cut to wander around the Harrod's sale. I wiled away a bit of time waiting for her in the Nag's Head, which was surprisingly busy on a Saturday at just before 6. It turned out I had more time than I originally anticipated to wile away, so I wander from there over to The Grenadier.

Eventually we met up in Waitrose and bought the all important things for our forthcoming Burns night: chiefly haggis, neeps and tatties.

From there we headed home, and had Japanese food for dinner.



Post a comment