The Launch
Posted on 2010/11/20 18:35:49 (November 2010).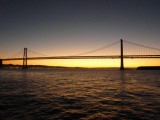 [Monday 15th November 2010]
Today was the main event of my trip to San Francisco - we spent the daytime all huddled together in a "war room" officiating over the technical side of launching my project. I'm pleased to say it all went relatively smoothly. It's the first time I've been involved in this kind of big public facing launch and so it was all quite exciting.

Then in the evening we had our big launch event, in the Ferry building in San Francisco. There were several hundred people there, a free bar, a DJ, and of course presentations about the actual product. All very glamorous.

After the launch event some people from my project decided to head to a bar to toast the success of the project and all that, but I instead decided to head off on my own, and visit what I understood to be the oldest bar in San Francisco. It wasn't really my sort of place all told.



Comment 1
I'm seriously impressed John! Obviosuly no clues as to the project you've been working on - except perhaps the map-pins done large in the photo :-) Look forward to more official news!

Posted by Nigel at 2010/11/23 08:57:31.
Comment 2
Hi John. Nice pic. The son of my neighbour has just been hired by Google. He is an IT engineer like you (I believe) and will be posted in Dublin. Any chance you two might meet one day, or is the probability way too low?

Posted by Sheri at 2010/11/25 07:10:50.
Comment 3
Sheri: I don't have much interaction with the Dublin office at the moment, but who knows?

Posted by John at 2010/11/29 21:44:32.