Meeting Sheri
Posted on 2010/10/29 08:26:41 (October 2010).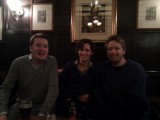 [Thursday 28th October 2010]
Sheri, long time denizen of the Maison de Stuff, announced that he was going to be spending a few days in London this week with his wife Christelle, and so, forthwith, a plan to meet up was arranged.

Pleasingly, Sheri actually asked to be taken on a tour of some of my favourite pubs, so the plan for the evening was extremely simple. We met up at the Cittie of Yorke, and from there proceeded to visit the Old Bank of England (mainly because I was sure we'd be able to find a table and some mediocre food) followed by the Seven Stars and finally Ye Old Mitre.

We were also joined by Chie, and Tom, who was working in London for the day, so in the end a pretty decent sized group.

Conversation ranged over a variety of topics, the trials and tribulations of being a parent, the cost of living in our respective cities, Sheri's fascinating family history, art, films, celebrities and well all sorts really.

It was a lovely evening - Sheri probably won't thank me for revealing that he's actually a gentleman in real life, and not exactly the vagabond he portrays himself as here on the Maison! Christelle is lovely too, and both Sheri and I were delighted to see how Chie and her seemed to immediately get on.



Comment 1
I asm totally jelaus that you met him before me!!!

Posted by Lox at 2010/10/29 09:41:57.
Comment 2
"fascinating"...?! Do I spot a hint of (gentle) sarcasm there...?

Posted by Sheri at 2010/11/02 11:01:28.
Comment 3
You guys need to post more pics!! ;-D

Posted by Nigel at 2010/11/07 15:49:30.