Brighton
Posted on 2010/06/06 14:46:28 (June 2010).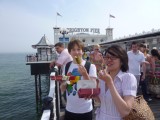 [Saturday 5th June]
A day out in Brighton with Chie and Gav, primarily so that I could buy some new shoes from the ever reliable Vegetarian Shoes. Once there we decided it might be rather nice to explore some of Brighton's rather fine old pubs.


View Brighton Pub Crawl in a larger map



Comment 1
John, does that shop manufacture shoes containing no products derived from animals (i.e. no leather)?

Posted by Bryan at 2010/06/08 08:47:59.
Comment 2
Yes that's right Bryan. It's the only one of it's kind in the UK, as far as I know.

Posted by John at 2010/06/13 20:21:00.